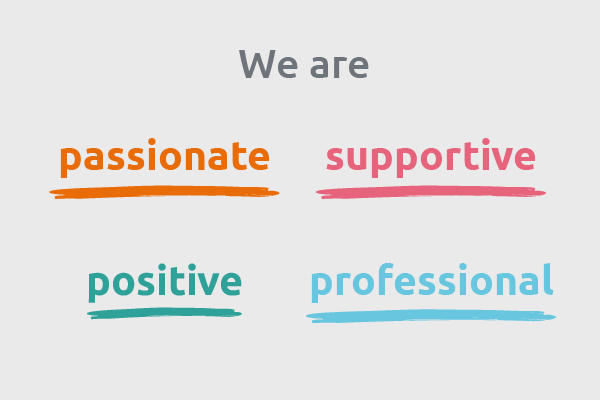 Who are we
For 150 years we've been championing and caring for people with disabilities, autism and complex health needs. And providing life-changing care and support for looked-after children and care-experienced people.
Today we're one of the North West's leading disability, education and care charities. We help children, adults, parents and carers, delivering individual care, support and education to thousands of people and their families each year.
What do we do
At the Together Trust, we deliver individual care, support and education services across the North West.
We care for and champion the rights, needs and ambitions of looked-after children and people with disabilities, autism and mental health differences.
Every year we support thousands of children, young people and adults to lead happy, fulfilled lives.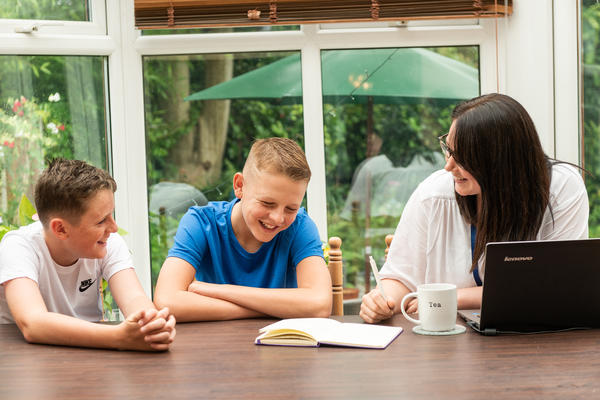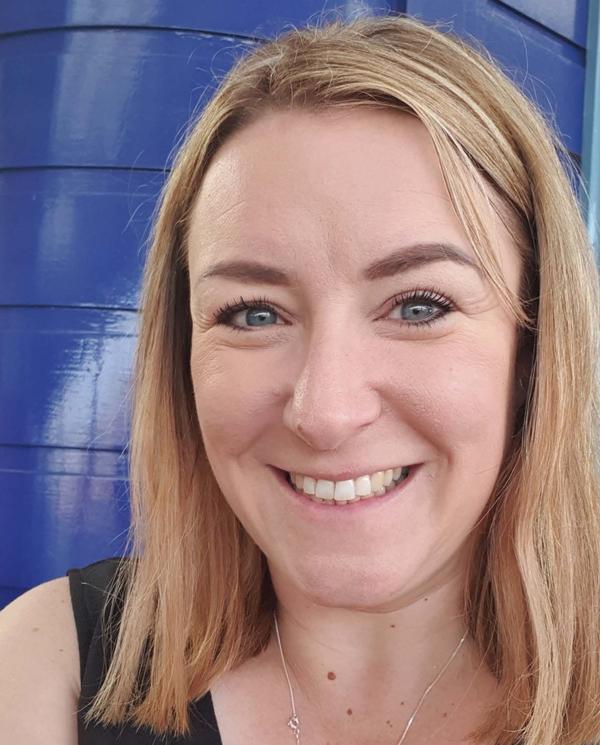 Together we care - Jenny's story
Jenny is a registered manager at Pearce Lodge, our residential home in Stockport that supports disabled adults and people with complex health needs.
Jenny has worked at the Together Trust for over 17 years and had never experienced anything like the COVID-19 pandemic in her career
Together we learn - James' story
James is in his twenties and has severe learning disabilities, profound autism and is non-verbal. He has been in supported accommodation at the Together Trust for 9 months.
We spoke to his dad Steve about the transition from home to supported living.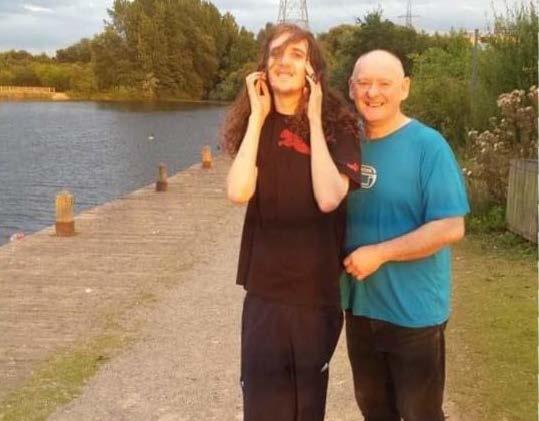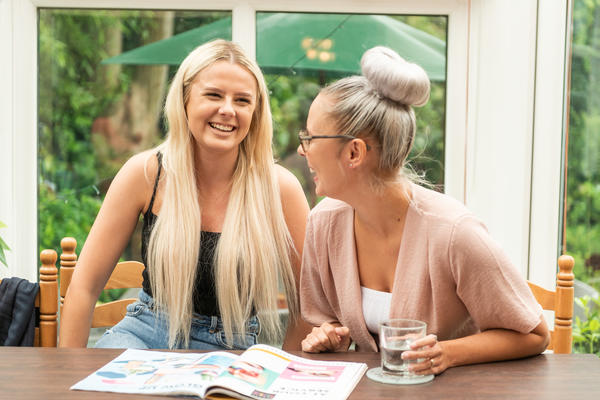 Together we achieve - Marie's story
Marie spoke to us about her time in unregulated accommodation to help us challenge a discriminatory change to secondary legislation that has removed a guarantee of care for children in care aged 16 and 17.
Together we grow - Kyran's story
Kyran is 13 years old and has been a student at Ashcroft School since May last year. As well as thriving in his new educational environment, Kyran has also quickly become a strong advocate for the Together Trust outside of school.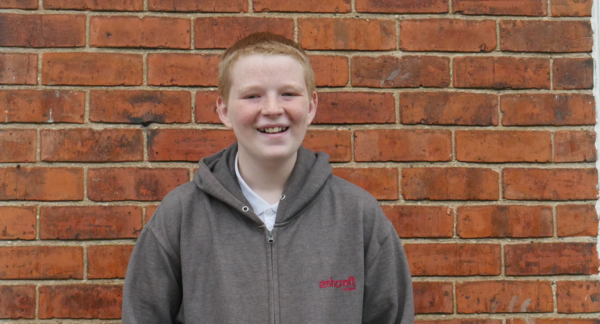 Find out more about Ashcroft
In addition to our trustees and governors, other volunteers have been getting more involved over the past year, helping us and the people we support in a wide variety of activities. In six months alone, they have given almost 450 hours of their time and made a difference across the charity.
History and heritage
Recording oral histories with our care leavers.
Colleague wellbeing
Online crafting sessions thanks to our volunteer sewing expert.
Residential care
Volunteer artists visited our care homes.
Family support
Volunteer support in our Sleep Service and SENDIASS (Special Educational Needs & Disabilities Information Advice & Support Service).
Fundraising
Provided vital support in a difficult year for our campaigns.
Gardening and horticulture
Green fingered volunteers helped develop our gardens and outdoor space.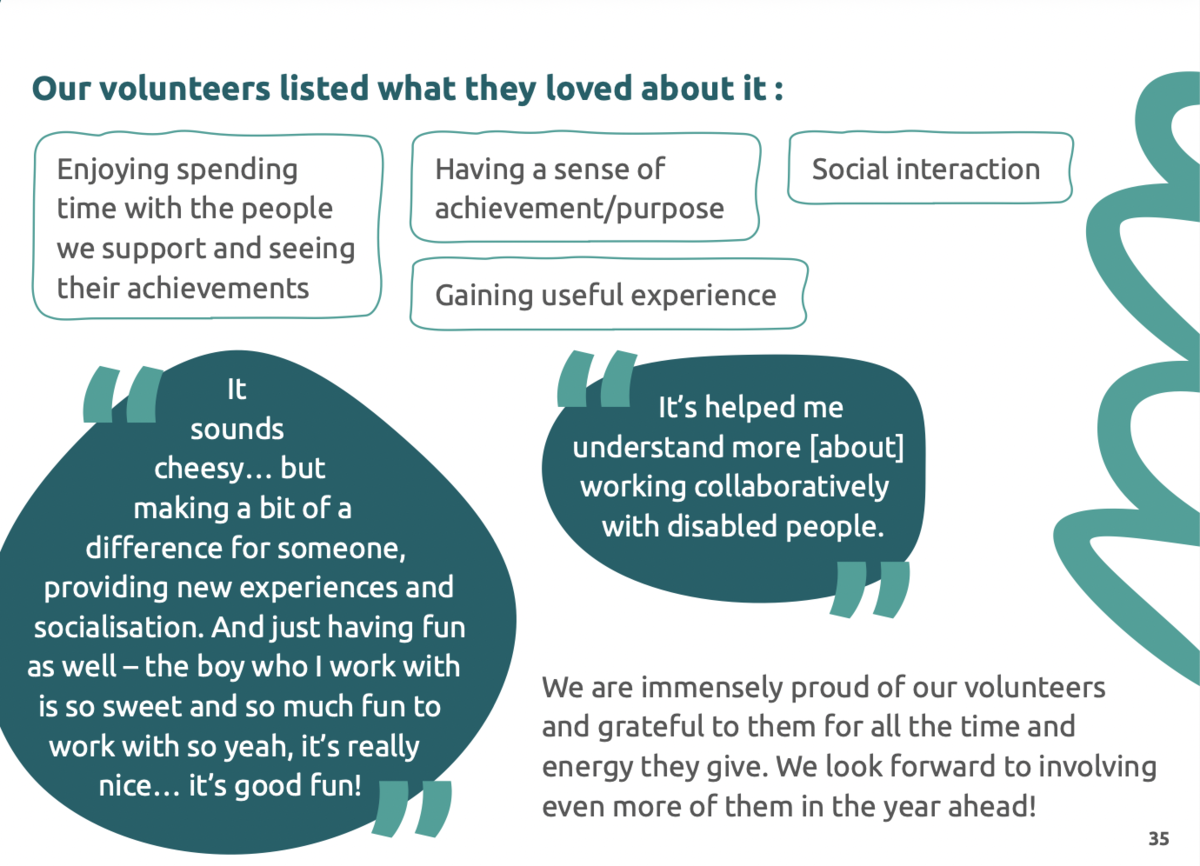 Our Supporters
Here we share the views from three of the many supporters and organisations that have helped us this year.
Vernon
The Vernon Building Society's Christmas Toy Appeal 2020 in partnership with Imagine Radio raised an incredible £6,000 to help children supported by the Together Trust. Tanasè Rivers, head of marketing, brand and culture at Vernon, said: "We have a long-standing and rewarding relationship with Together Trust as part of our community programme and we love working with this fantastic local charity."
Brunel
Brunel supported the Together Trust this year through their International Young Inventors competition. Young people from Ashcroft School have won first and second place in the competition securing prizes worth £350 and a donation of £500 for the school.
Oliver Hague from Brunel International said: "Taking part in a competition like this is important primarily because it's about young people's future."
Booths
Booths in Hale Barns chose to support Together Trust by taking on the Captain Tom 100 challenge and fundraising outside the store.
Gail, a member of the team at Booths, is also a foster carer with the Together Trust and expressed the difference the money raised could make for young people in foster care: "The Covid-19 pandemic has made it a really difficult year for young people in foster care and the foster carers themselves. It will be great to put the money raised towards a great day out for all the young people and families to give them a well- deserved fun day at the beach."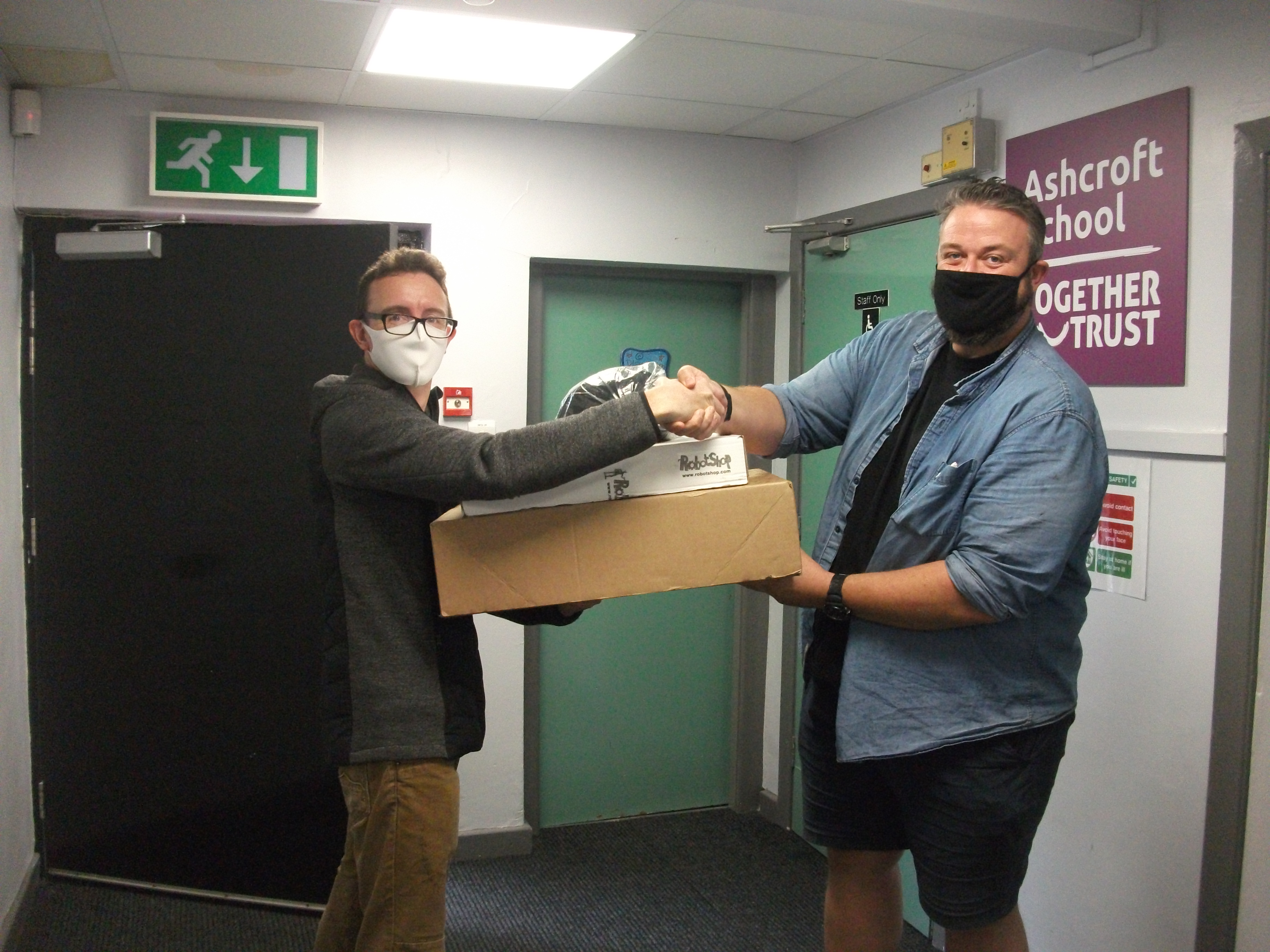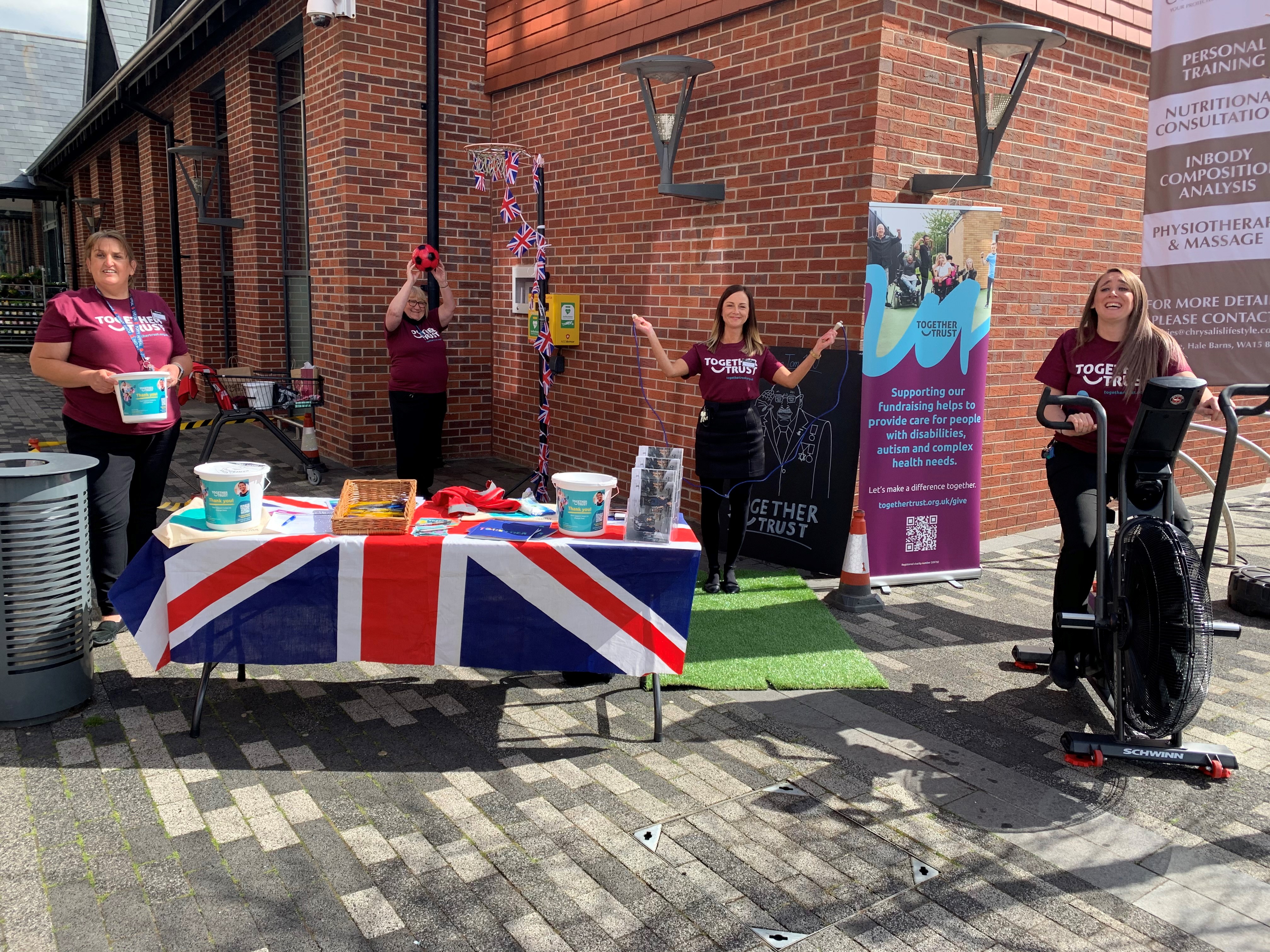 Ways your business can support us
Corporate social responsibility
You will be fully supported to fulfil your CSR as a business in your community while boosting staff morale and improving staff retention.
Staff volunteering
Volunteering days supporting our services or fundraising efforts. Could you provide staff for the day to help with a supermarket collection? Or to help at an event?
Provide work placements
It's crucial that we provide enriching experiences for the people we support and we can achieve this by working in partnership with businesses. Could you support us by offering a young person work experience for just one hour per week?
Students are risk assessed and fully supported by trained staff to fulfil their work experience and can provide an invaluable contribution to your workplace. Key areas of interest for our students include catering and hospitality, construction, IT, and retail, however work experience across any industry can be considered.
Guest speaker
Come and speak to our students, talking about an aspect of your business or career path. These can be arranged face to face or virtually and provide students with crucial insight into the world of work.