Volunteer with us
Give the gift of your time and be part of an inspiring community of local volunteers making change together. Not to mention picking up new skills, experience, and friends along the way!
Why volunteer with us?
We believe volunteering with the Together Trust should be rewarding for the people who give up their valuable time and energy to make a difference with us, and we design all of our roles and  our support with that in mind.  Each of our volunteers is an individual who has their own different reasons for being involved, but some of the many benefits they enjoy are:
training and development – great for employability and continued professional development
a sense of purpose and achievement
out of pocket expenses reimbursed within a week, direct into a nominated bank account
new skills and experience – ideal to add to a cv and LinkedIn profile
references for onward employment or volunteering elsewhere
being part of a fun and friendly team -  improving mental health, confidence, and wellbeing.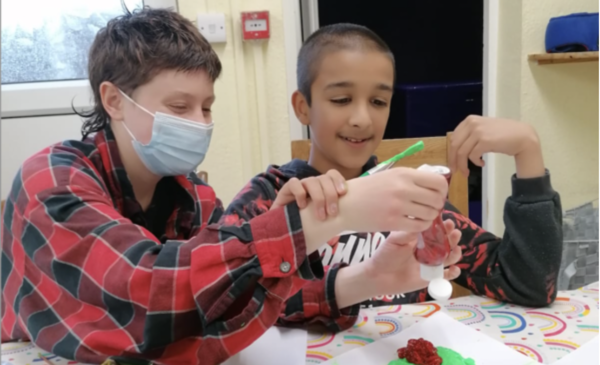 We have different roles and activities available at different times across our different teams and services for volunteers to get involved in. Below are some examples that you may be interested in - let us know what kinds of things you might like to do when you apply and we can talk through all the different options (or give us a call first to chat about them).
Vocational Class Activity Assistant – Special Education
We run lots of interesting classes with the young people attending our special education schools and college, such as joinery, bricklaying, bicycle repair, and mechanics.  If you have skills in any of these areas and are interested in working with young people with special educational needs, autism, or emotional and behavioural problems, we would love to hear from you!  Our teachers run the sessions, with volunteers needed to simply bring along extra knowledge and enthusiasm to support individuals within the group!
Reading or numeracy assistant
Children and young people in our special education schools benefit immensely from one-to-one support with their literacy and numeracy.  Volunteer Reading Assistants and Numeracy Assistants sit with a child for short sessions during school hours to listen to them read or help them practise their maths skills.  
Community Activity Leader – Music / Dance / Art / Yoga
At our community services for  adults with learning disabilities, autism and/or complex health needs, we run a diverse range of exciting and varied activities with opportunities to develop vocational and independence skills, such as baking, sensory sessions, gardening and relaxation.  We welcome volunteers with the skills and confidence to lead creative and fun sessions.  Our existing staff provide the support for participants to join in, so if you have the expertise to lead a group in music, dance, art, or exercise such as yoga, please get in touch! 
Fundraising Helper
Volunteers can help us with fundraising in various different ways, such as adding clothes to our online sales page, being a match-day car park attendant, or being part of our friendly team at fundraising events.
Events assistant
If you like to dip in and out of volunteering rather than turning up each week, becoming an Events Assistant may be just the thing for you!  From marching with us at the Manchester Pride Parade to marshalling at our annual awards event or helping out at our Christmas Carole Concert, there's a variety of activities for you to get involved with!
Gardener
We have lots of gardens and outdoor spaces across our many services, including our schools, college, and residential homes.  Volunteers with green fingers who would like the opportunity to put their skills to good use are very welcome to join us for some quality outdoor time!  This role will sometimes involve volunteering independently, but may also include some time with the people we support in that setting, helping them to experience the beneficial effects of gardening.
What our volunteers say…
"I would say go for it, give it a try! The training is excellent for new volunteers." 
"It makes me feel good to be involved in such an organisation with such a big heart with such great people. It's great to be part of a team that genuinely puts young people at the heart of everything they do" 
"It's really nice… it's good fun!"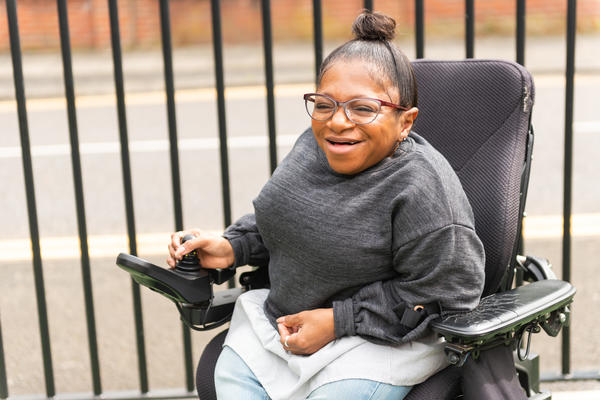 Applications open to all
Applications are welcome from all regardless of age, disability, marriage or civil partnership, pregnancy or maternity, religion or belief, race, sex, sexual orientation, trans status or socio-economic background. We are committed to making reasonable adjustments for disabled people. We positively encourage applications from those with lived experience.
If you have difficulty with the online application process, please let us know and we can arrange to collect your details another way.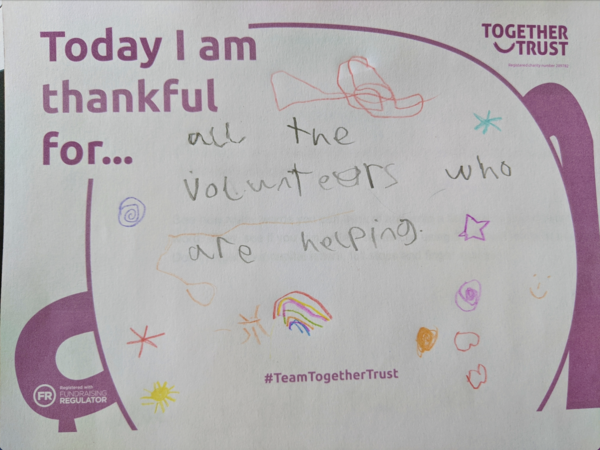 How to become a volunteer
It's easy!  If you're interested in volunteering but not entirely sure whether it would suit you, we're always happy to chat it through with you – just give us a call on 0161 283 4882 or drop us a line at volunteer@togethertrust.org.uk.   Or to get straight to it, pop your details down on our application page, including what kinds of role you would be interested in.  We'll then be in touch about next steps!