Our history
Our story begins in 1870 with two Sunday school teachers, Leonard Kilbee Shaw and Richard Bramwell Taylor. While volunteering at St Ann's Ragged school, Manchester, they encountered the harsh realities facing children in Victorian Britain. Deeply moved by this experience, they worked tirelessly to give all young people a better start at life.
150 years later, we still share their mission.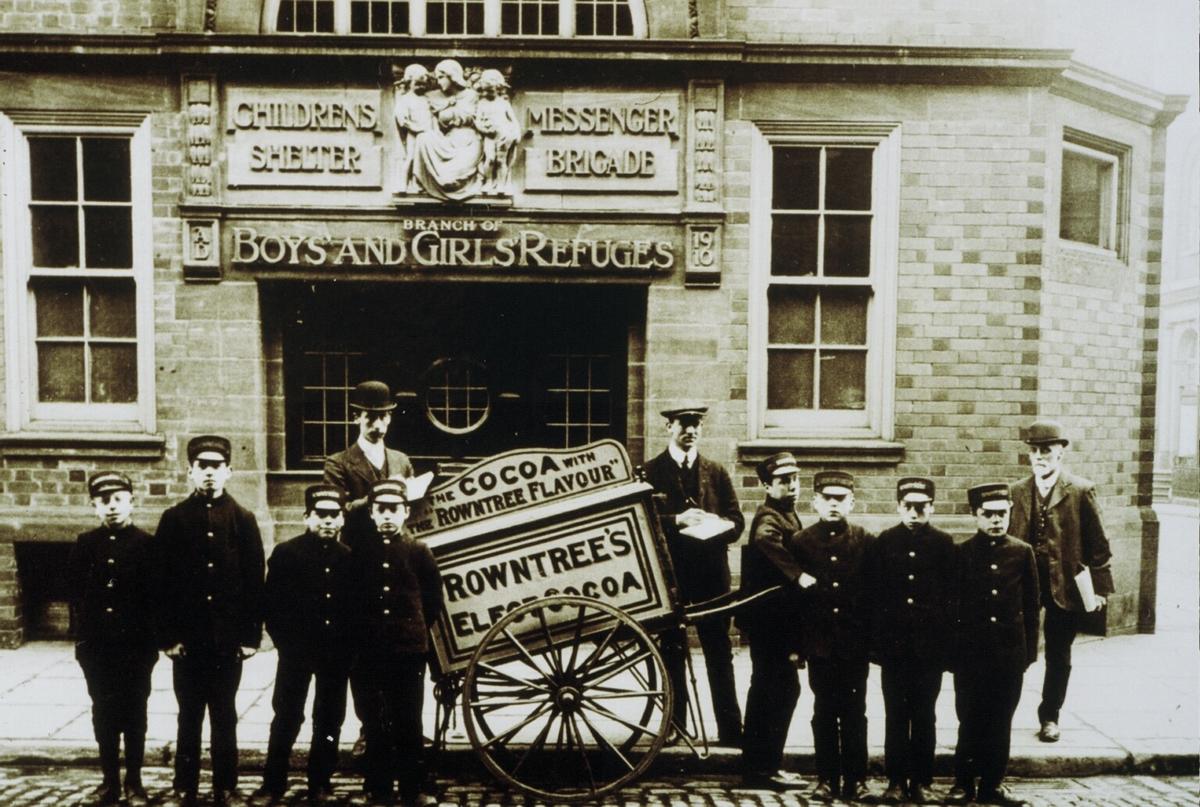 1870 to 1920: The founding years
Manchester in the mid nineteenth century was a city of great hardship. Overcrowding, poor housing, unemployment, poverty and disease were rife. Those without a home had two options: the workhouse or the streets.
1869
Our founders, Shaw and Taylor, encountered two homeless boys on the porch of St. Ann's Sunday school. In this moment they understood that hundreds of children were abandoned in the city, left to fend for themselves. Why did society abandon these boys? They knew it was time for action.
4th January 1870
With money raised from local businessmen, Shaw and Taylor opened a 'Night Refuge for Homeless Boys' at 16 Quay Street, Deansgate. Here, young boys were given a bed for the night in return for working during the day as bootblacks and office messengers. From this small beginning, our organisation grew and thrived. Within nine months, the home on Quay Street was oversubscribed and our charity moved to larger premises on Francis Street, Strangeways.
1878
For eight years the focus was to provide shelter and work for young boys. But in 1878, Shaw and Taylor opened their first home for girls in Broughton. Our organisation then became known as the 'Manchester and Salford Boys' and Girls' Refuges and Homes'.
Around this time, the charity also set up an emigration scheme to Canada. The scheme was designed to rescue children from poverty and environments considered 'morally corrupting'.
1890
With support and donations from the local community, several residential homes and services were set up to improve child welfare in the city over the next 20 years.
Just like our founders in 1870, we continue to amplify the voices of those unfairly marginalised by society. Our mission remains – to champion the rights, needs and ambitions of the people we support until everyone can thrive.
1920 to 1990: The next chapter
By 1920, Manchester and Salford Boys' and Girls' Refuges and Homes helped around 125,000 children. A move to Cheadle and the establishment of a new Welfare State in the U.K. define the next 70 years in our history.
1920
We sold some of our Manchester properties and purchased the 22.5 acre Belmont Estate in Cheadle. Here we built two new homes for orphaned and destitute children: Crossley Gaddum (1923) and Hayes Shaw (1925). The original building on the site, Belmont House, became a home for girls.
Today, Crossley Gaddum is home to Inscape School, and Hayes Shaw became Ashcroft School.
1927-'29
We made further additions to the estate, including the Milnes-Perrins Sanatorium (1927) and the William Stevenson Recreational Hall (1929).
1944-'48
New government legislation brought in the first ever social services for children.
The 1944 Education Act and the 1948 Curtis Report changed the landscape for our organisation and meant less reliance on charitable giving. We were now able to finance activities through new Welfare State funding. 
1958-'60s
We set up several new childrens' homes to provide young people with a more family-style atmosphere out in the community. These included: Linden (1958), Lerryn (1960), Highlea (1963) and Lockhart House (1965).
In 1959, the Bethesda service (for 'crippled and incurable children') took over the empty buildings left at Belmont. This added two new bungalows, Woodlands and Greenways, to the estate.
1960
After 90 years, we changed our name to the 'Boys and Girls Welfare Society' (BGWS). This new name better reflected our aims by the mid 1900s.
1982
For 100 years, Bethesda was our flagship service. Its success resulted in us opening an Extended Education Unit (EEU) in 1982. The EEU offered tertiary education to Bethesda pupils over the age of 16, and was the forerunner to Bridge College that we have today.
1990 to present: Where are we now?
Over the last thirty years our charity has grown considerably, moving into areas that were once the domain of local authorities.
1993
As BGWS, we launched two new schools – Inscape House and Bridge College – providing education for autistic children and older students with learning difficulties and/or complex health needs.
We also ran CYCES school, originally with Derbyshire LEA in Whaley Bridge and then by ourselves on the Cheadle site from 1994. CYCES became known as Ashcroft School in September 2012.
1995
We celebrated our 125th anniversary and got a new logo.
1998
We opened the BGWS Centre opened to accommodate the new Fostering service, training and many other activities.
2003-2009
We were approved as an Adoption Agency.
2005
We changed our name, becoming the Together Trust. This new name reflects the people we support, our connected services and the collaborative approach we take.
2019
Today, our charity is growing and changing. Social care in the UK is increasingly complex, and the need for our services continues to rise. We now offer over 40 services providing life-changing care, support and education to thousands of people each year.
If you enjoyed this potted history, why not take a look through the Archive blog? Discover photos, books and stories from our long, shared history in the North West.