Join our team
Could you make a real difference to people's lives? Join our team and help us champion a better future for the children, young people and adults we support. With their care at the heart.
Every day with us is different. So you'll need to be flexible, full of energy and ready for the challenge. We promise you'll reap the rewards. We're looking to hear from people from all walks of life, so why not get in touch or take a look at our latest vacancies?
You may also be interested in volunteering – find out about the benefits of volunteering with us and the opportunities we have available
Keeping the people we support safe from harm
We're committed to safeguarding the people we support. This starts with our staff. Everyone applying for a role with our team will need to share a full and detailed work history, references and for all roles an up-to-date DBS certificate.
Working at the Together Trust
Our team is our greatest asset. 
Their compassion, commitment and consistent hard work help create a society where the people we support are valued within their communities. Here are some great reasons why we think you'll love it here.
Make a real difference to people's lives every day
 You'll get to help the people we support celebrate along the road to a brighter future. And, be part of an incredible team of like-minded peers. Together we work hard, laugh a lot, and support each other.
Join a charity united by a shared mission
We're all dedicated to championing the rights, needs and ambitions of the people we support. We do all this to create a society where people are valued within their communities. 
Work in a place that respects you 
We're committed to putting equality, diversity and inclusion at the heart of what we do. And know that your wellbeing is top priority. You'll have access to mental health first aiders and a dedicated Employee Assistance Programme (EAP).
Get out of your comfort zone
Grow your skills by engaging with the wider Together Trust family. This could be as bank staff or as a volunteer at our community events. Or following your ambitions and progressing your career through on-the-job training, apprenticeships and Level 2 qualifications.
Access a whole range of employee benefits
Including flexible working, a pension, health plan and a cycle to work scheme. As well as an annual pay review with incremental progression.
Speak to us – we listen, grow and make changes together
Become a foster carer
Foster carers make a huge difference to young people's lives. That's why for over 20 years we've been growing our fostering family. We provide support and training so you can provide warm, nurturing homes for those who need them. Together we've helped thousands of young people thrive.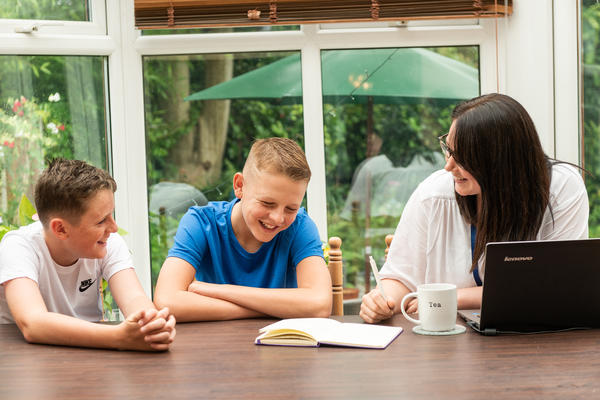 Apply to join our Board
We currently have a number Trustee vacancies. Could your skills and experience help drive our mission to champion the rights, needs and ambitions of the people we support? As well as playing a key role in the development of the charity and setting overall strategic direction, our Trustees provide scrutiny to our processes and decisions and ensure standards of governance are upheld.
We are actively encouraging applications from people who are Black or a minoritised ethnicity, disabled, LGBTQ+ and/or have varying levels of educational attainment. We particularly welcome applications from younger people aged 18 to 30 and we are also interested in hearing from candidates with a background or advanced knowledge in:
Lived experience – in any specialist area in which we work.
Equality, diversity and inclusion
Fundraising and/or social value
Special education
Safeguarding
Ask us a question or call for a chat about trusteeship
Get in touch in whichever way works for best for you – or drop us a line and ask us to call you back.
Email: Julie Isted julie.isted@togethertrust.org.uk
Call: 0161 283 4790
Or you can read more about our vacancies and download more resources below:
A guide to our recruitment process
Your application
You can find our full list of vacancies on our careers website. Search by role or location, or simply browse the full list of vacancies. Click on the role you're interested in to see the full advert, then click 'apply' to complete your online application.
Shortlisting
We shortlist as we receive applications and we'll contact you as soon as we are able to. Once the application window has closed, we'll review all applications and shortlist potential candidates. For some roles, the hiring manager will give you a call to chat through your application before inviting you to interview.
Selection process
We use a wide range of selection tools which are dependent on the role you apply for. This could involve an interview, presentation or some other relevant activity. We will let you know with plenty of time so you are able to prepare.
Making an offer
If we're a good fit for each other, we'll give you a call to make you an offer. All offers are conditional subject to references and DBS checks, so we won't be able to give you a start date right away. But we can kick off the onboarding process to start bringing you into the team.
Onboarding
During onboarding, we'll put you in touch with a member of the HR team and run through all the necessary checks like DBS and referencing. You'll have someone to call if you have any questions along the way. You can help speed up the onboarding process by making sure your references are in place.
Top tips to help your application go smoothly
Get your references in place, speak to them in advance so they know our request will be coming.
Let us know of any issues that might pop up on your DBS certificate, however minor they may seem. Even simple things may show up, but if we know to expect that it shouldn't slow things down.
Have you lived or worked abroad for 3+ months in the last 5 years? If so, you'll need to provide a Good Code of Conduct. You can apply for one of these from the embassy of the country you were resident in.