Therapy support in schools
Every young person deserves the chance to shine at school. And with the right support, they can. That's why we offer bespoke therapy support in schools to give children with autism and complex needs the tools to thrive.
"Jake was really struggling in school. I don't think they had come across a child like him before! Your advice really made a difference; it helped staff to understand his behaviour and how to communicate with him. Thank you."
Parent of a primary school student
Why us?
Our friendly and experienced therapists slot right in with existing school teams and support staff. And we tailor our wide range of therapeutic support and training to suit your students' needs. 
Together we help everybody shine.
Support that fits
Everything we do is bespoke and needs-based. We'll work with you to develop the right approach based on the young people you support.
We're in your corner
We become part of your team, helping you deliver existing plans or put extra support, strategy and resources in place. We can also offer staff training and development so you feel confident supporting every student.
We consider the bigger picture
We take a universal approach, helping schools support students with a wide range of needs, while offering specialist support when it's needed.
Get in touch
Whether you're a parent or carer, teacher, school or service commissioner, our friendly team is here to help. Give us a call or send us an email and we'll be in touch.
T: 0161 283 4201
E: enquiries@togethertrust.org.uk
All our therapists are members of the Royal College of Speech and Language (RCSLT) or the British Association of Occupational Therapists (BAOT). They're also registered with the Health Professions Council and extremely knowledgeable when it comes to current guidelines and national policies.
We're so proud of our team here at the Together Trust. Our therapists are not only highly skilled and professionally trained, they're also friendly, supportive and here to listen.
Speech and language therapists (SaLT)
Our experienced SaLT team help students master their communication skills and increase their confidence at school. The team value all forms of communication, helping individuals maximise their speech, language and communication abilities in a way that suits them.
Occupational therapists
Our occupational therapists helps young people develop their full potential. They work with individual students to support their academic learning, behaviour and independence skills, and help them get the most out of school.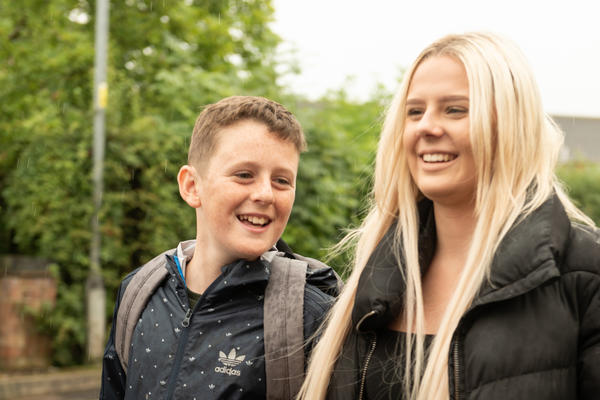 Supporting parents and families
Whether you've just got a diagnosis or are looking for more support for your child, we're here to help families. 
Pop along to one of our coffee mornings for parents and carers of children with autism.
Find a local autism sleep clinic.
And explore short breaks.
Or if you just need to talk, give us a call. We're happy to help and answer any questions you might have.