Therapy animals join Ashcroft School students for a term of Animal Assisted Intervention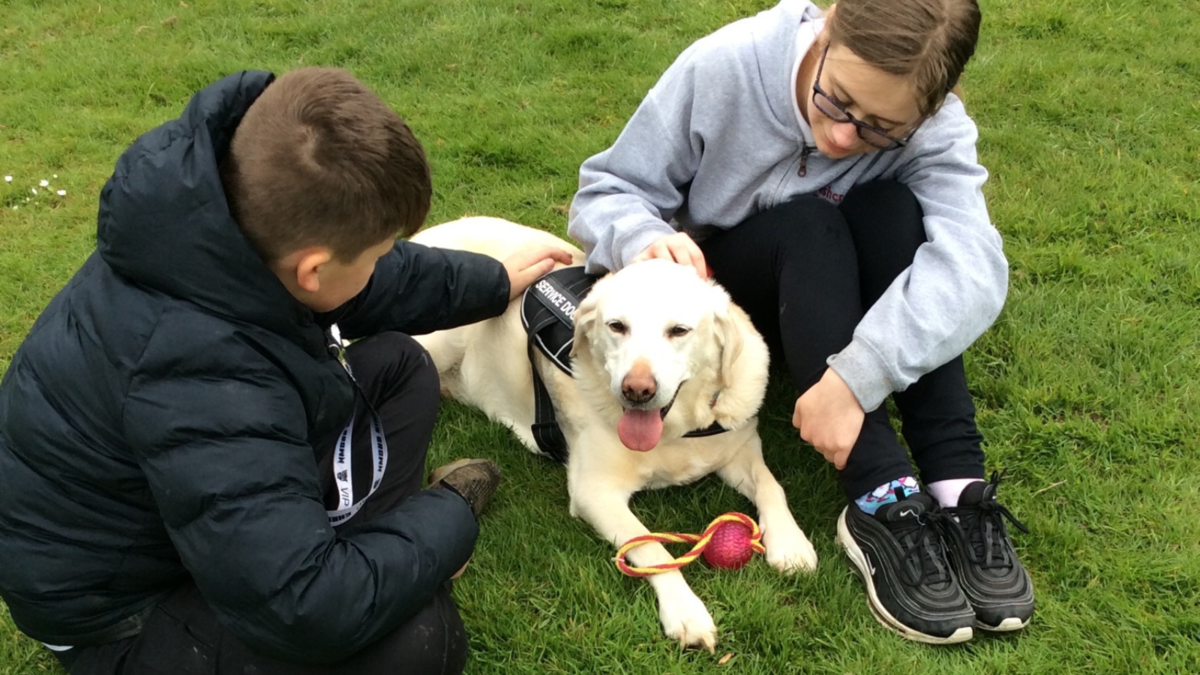 It has been a busy term for the young people at Ashcroft School who took on a new direction in their curriculum: Animal Assisted Intervention with our award-winning practitioner, Danielle. Ashcroft School is one Together Trust's specialist education settings that supports children and young people with social, emotional, and mental health needs. 
After starting the course with the Ashcroft students this year, she now has almost 30 students from Ashcroft School access AAI on a weekly basis which is growing all the time with new referrals. Danielle is currently working with the school and students, so that they can gain an Animal Care qualification from September. And with such adorable therapists, who wouldn't want to join?  
"I'm well excited for my Animal Course in September! I loved going to the Cat Sanctuary, so I think I'd be good on an animal course".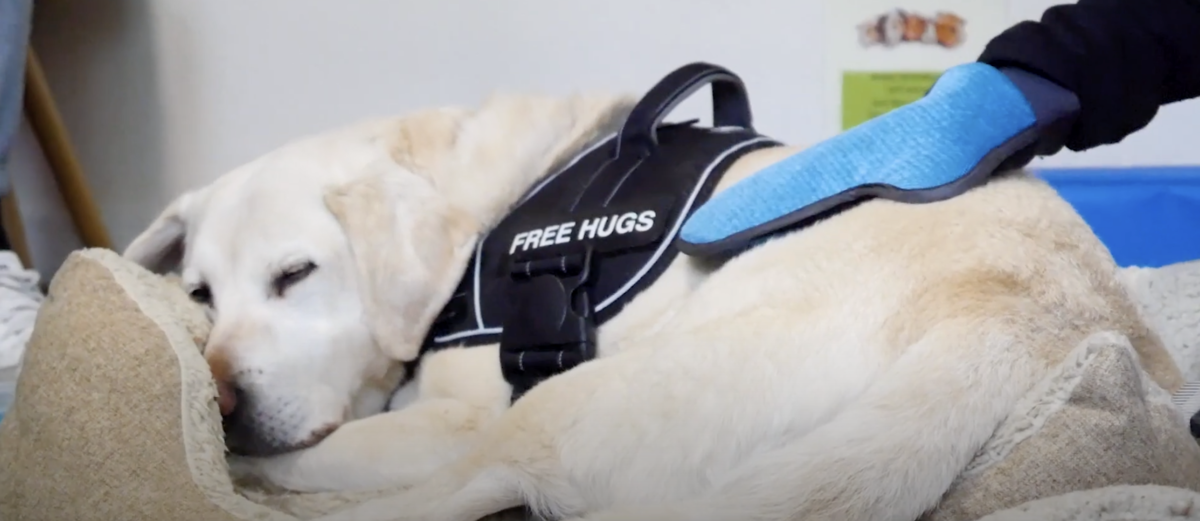 Meet our little therapists 
Our support dog is called Charlie, he is an 11-year-old Labrador who was originally Danielle's uncle's dog. He became a working dog when Danielle was doing all her training for her animal assisted intervention qualification. Charlie was assisted by Rooney, his brother, who had been working as a therapy animal at the Trust until 2 months ago when he went into retirement. Having reached 14 years he now spends most of the day sunbathing and napping on the sofa. 
Additionally, we have two friendly guinea pigs (Patch and Pandora), and a pair of tortoises (Davey and Simba) always ready for an adventure.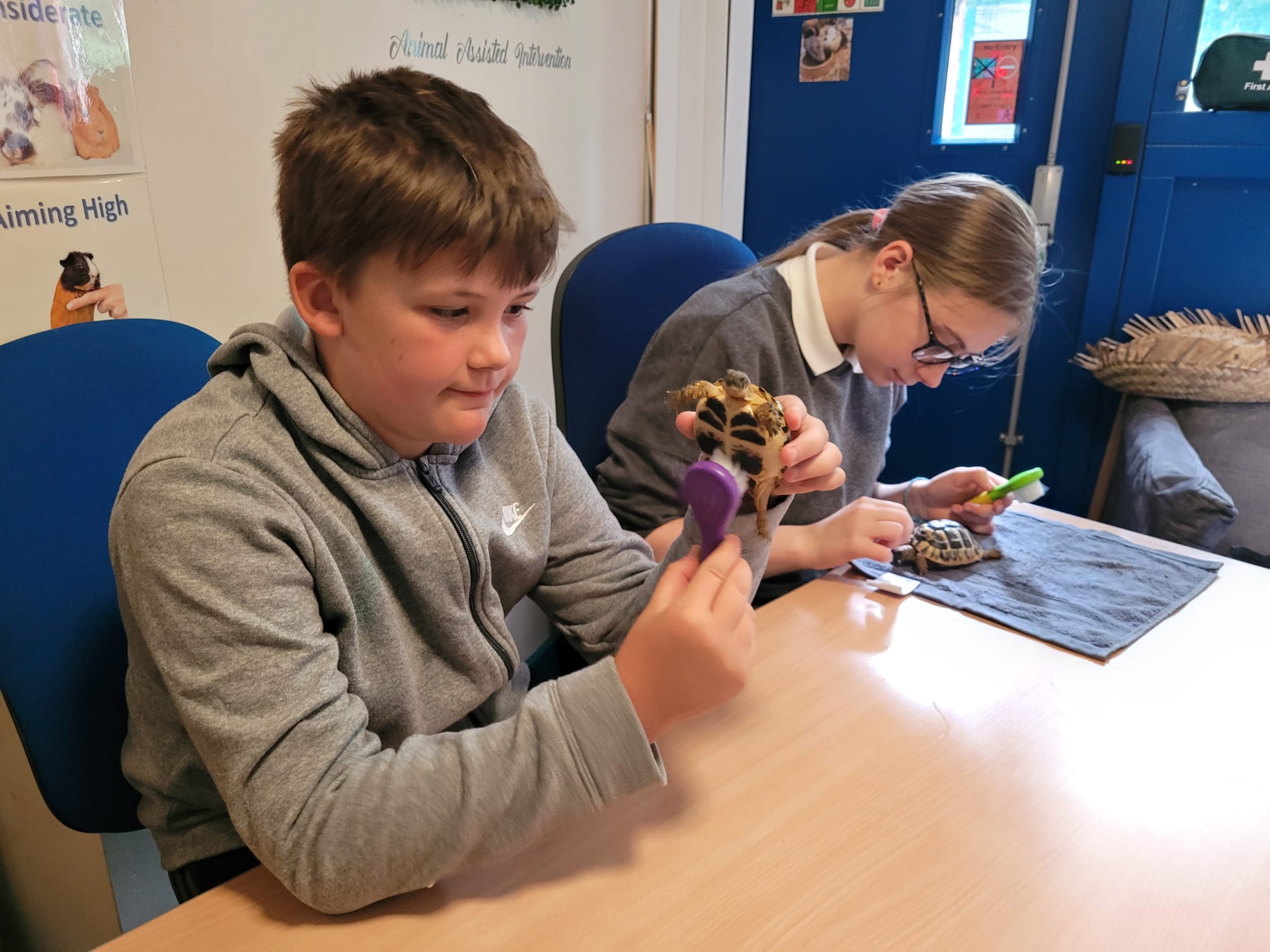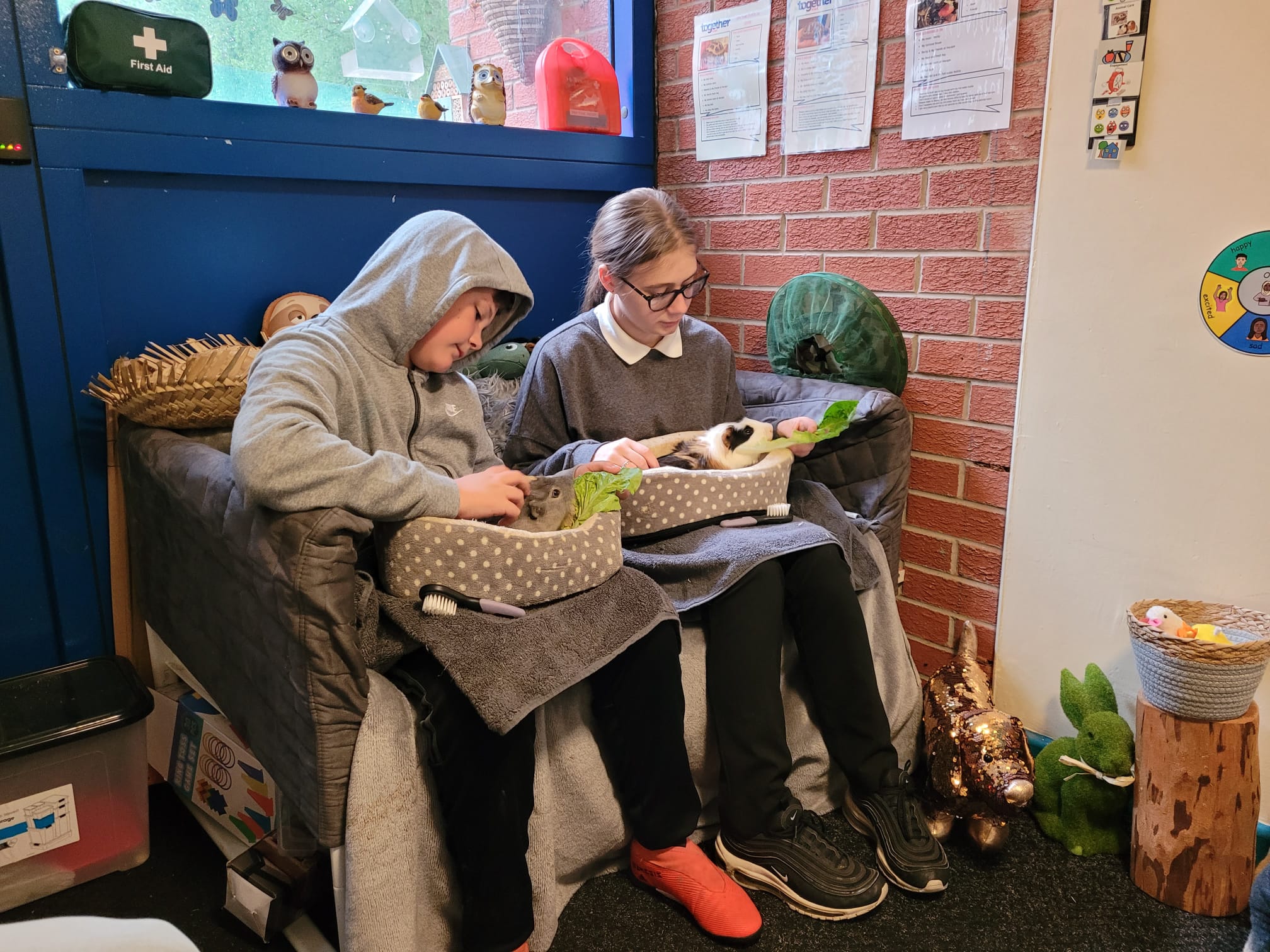 What happens during an AAI session?  
One of the most common type of session is built around improving engagement.  
Students learn how to provide basic care needs such as filling the water and food bowls, changing the guinea pigs and tortoise's environment, giving them treats, and help building a new hide or toy for their enclosures. As students progress, the sessions get longer.   
Matt* tells us that AAI is really engaging. He says "We play games with them all the time. From little football, doing magic tricks, and even racing around the classroom. It's one of the best parts about school." 
Tasks like these help build engagement back in the classroom, at home and out in the community. We have a number of programs such as emotions, engagement, fine motor skills, sensory, social communication and interaction to name a few.  
The impact of AAI 
Our young people often report that the animals help them feel calmer and more relaxed.  
During the exam period we have more students seeking out the support dog when taking movement breaks or after their exam had finished.  They like to spend time together with the animals, as it helps regulate their emotions and return them to baseline.  
Other students come to their session and express their emotions to Danielle and the animals. Together they work on building strategies to overcome their worries. Spending time with the animals makes them feel both happier in the moment, and prepares them for the rest of their day at school.  
They all leave with smiles on their faces and positive body language.  
Anna* says "Coming here is really relaxing and you get to see a bunch of cute animals."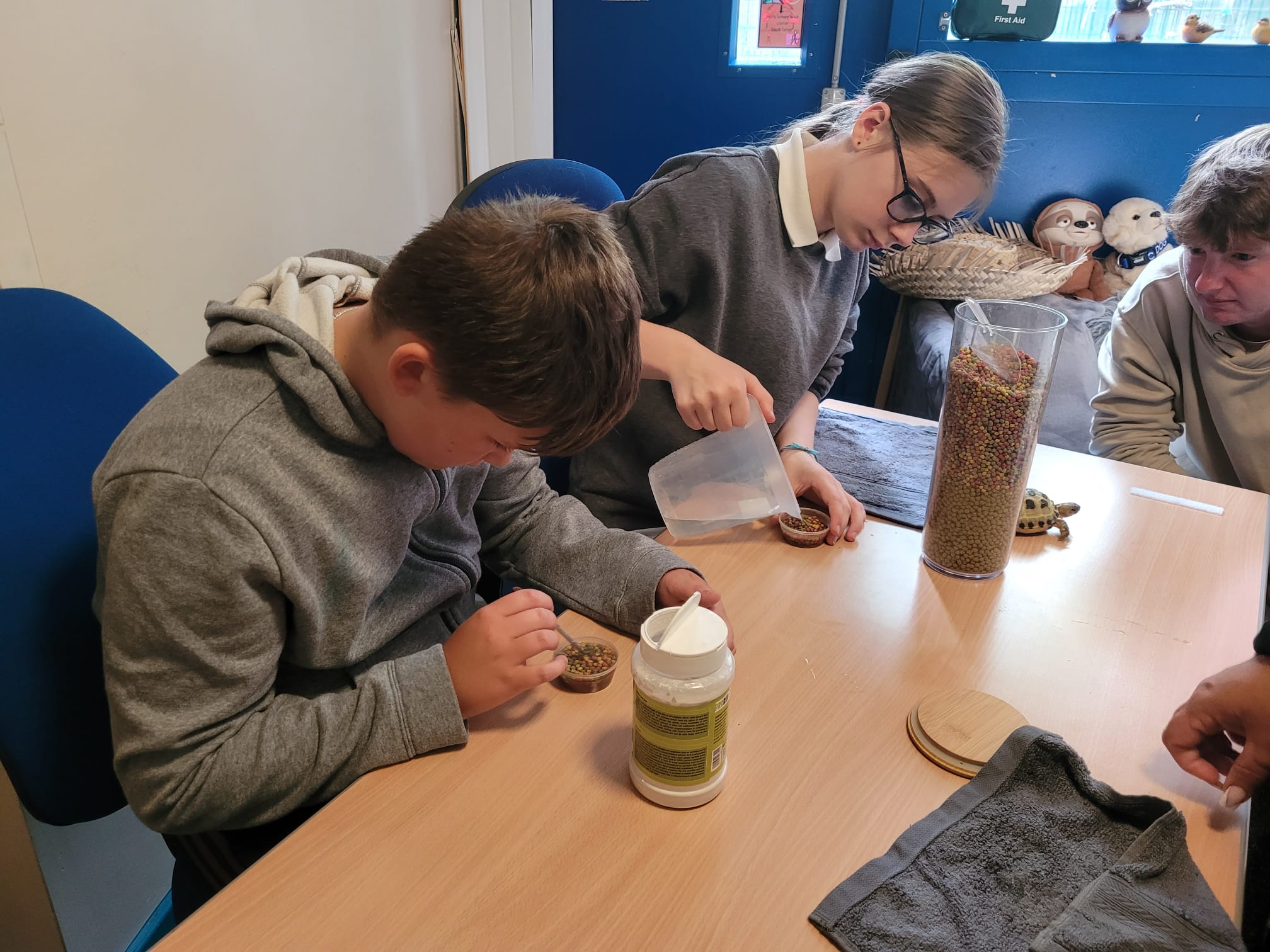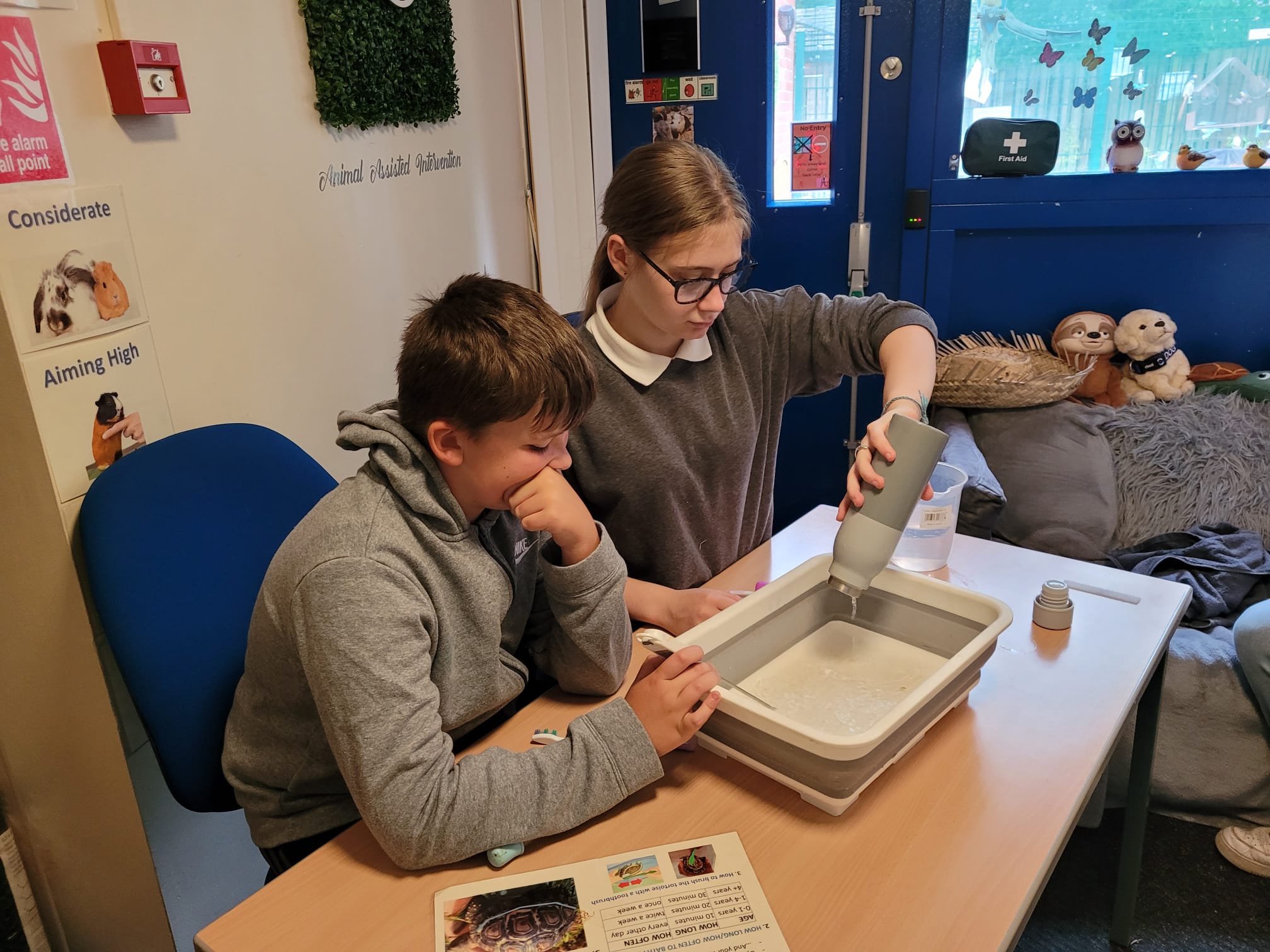 Award winning students 
After such impressive work with the animals, Danielle nominated 3 students from Ashcroft School for an award at the Together Trust Achievement Awards held at Manchester City Football Club Etihad Stadium in July. Having proven exceptional skills in engagement, social communication and interaction with the help of AAI they all won their awards and accepted them in person at the prestigious celebration! 
Every child should have the chance to shape their future through learning. Ashcroft offers the right balance of personalised learning and intensive support to help every student break through barriers and reach their potential. Read more about our specialist education setting.