Join the Together Trust's virtual walking tour 2021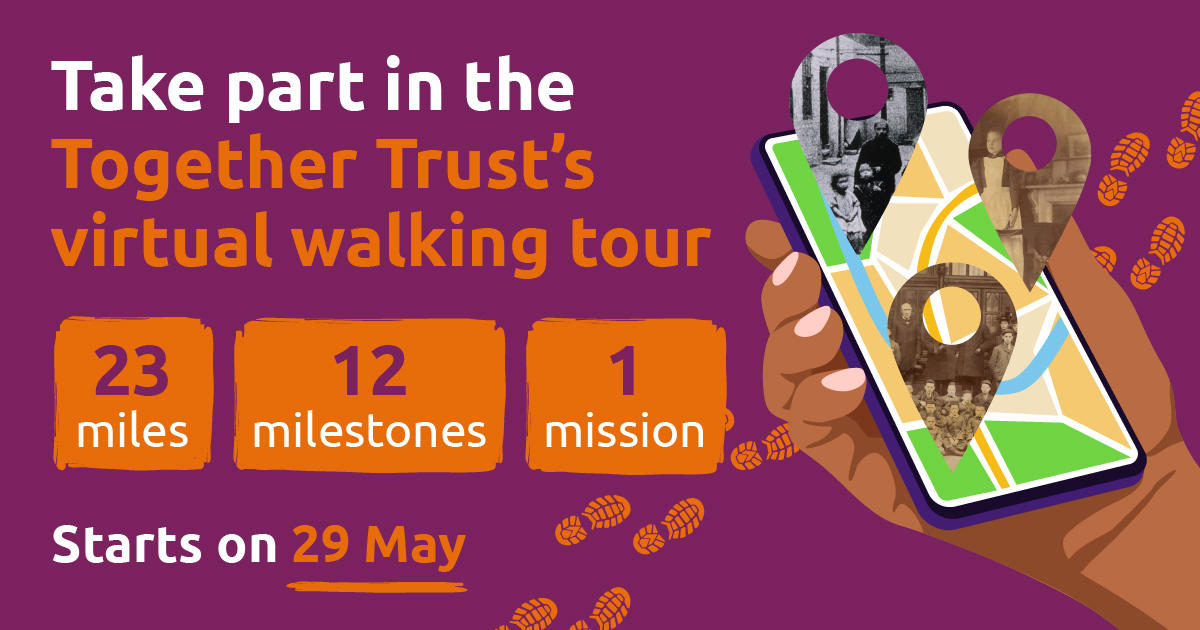 Are you interested in finding out how and where we started writing our history? The charity's very first care homes, adult services and what inspired our modern-day values?
In the wake of Mental Health Awareness Week 2021, 10-16 May, the Together Trust would like to welcome you to sign up for our virtual walking tour to explore the charity's 150-year-long history while staying healthy and active.
---
The mission will begin on the spring bank holiday and requires you to walk, cycle, jog or run 23 miles (37.2 km) in your own time between 29 May and 10 July 2021.
To keep track of the completed distance and unlock 12 of the Together Trust's accomplishments over the past century and a half on the map, you have to either download the app on your smartphone that automatically logs in the distance for you as you walk or you can manually register your distance in your account on My Virtual Mission.
Whether you decide to take a walk around your neighbourhood, run on the treadmill at the gym or go for a bike ride with your family and friends - it is up to you! If you do not wish to walk, run or cycle, there are other forms of activities that apply (see the Fitness Activity Conversion Table below). 
How to get involved?
Visit the mission's webpage to join the challenge by 3 June 2021 either individually or as a group along with family, friends, colleagues but using the same account.
 
Start completing your 23 miles and discover our history along the way between 29 May and 10 July 2021.
 
If you would like to track everything on your smartphone, you can download the free My Virtual Mission app (available for Android and iOS users) to access Runkeeper, Strava, Under Armour, Fitbit and Garmin to auto-record most activity, keep track of your miles and the milestones you unlock on the virtual map.
 
Have fun, stay fit and don't forget to take photos, videos and share your experience with us on social media, using #TeamTogetherTrust!
Please note that the spaces to sign up are limited and only the first 50 tour enthusiasts to register will be able to complete the mission for free.