Ashcroft College teacher is 'over the moon' after receiving Teacher of The Term award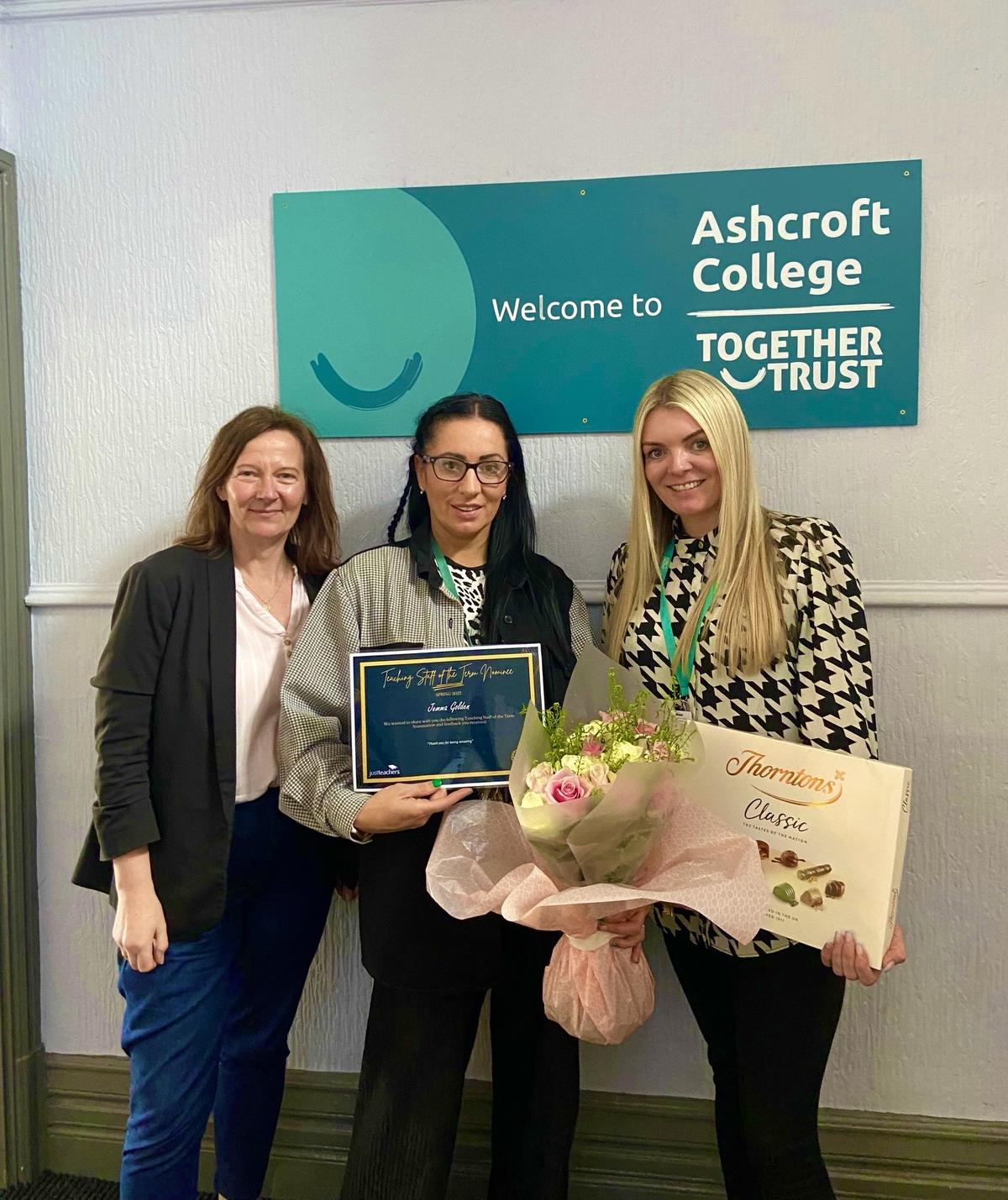 On 10 May, a staff member at Ashcroft College, one of the Together Trust's specialist education settings, received the winning nomination for Justteacher's North West branch's Teacher of the Term award.
Jemma Golden, Teacher of Hair and Beauty, was nominated by the team at the college due to her outstanding commitment and hard-work in her role, which involves working with young people aged 14-18 with social, emotional and mental health needs.
"As soon as I received the email from Justteachers asking if we would like to nominate anyone for the award, I knew immediately that we would nominate Jemma because she has gone above and beyond in her role as Hair and Beauty Learning Support Assistant. Not only has she made such a positive impact on the hair and beauty group, but on the rest of the college", shares Leigh Fleming, Pastoral Lead at Ashcroft College.
Jemma, who has worked at the college since March this year, shares:
"I was really shocked, and it was nice to receive recognition from the whole college. I was absolutely over the moon."
Jemma is one of the Justteachers' agency staff who joined the team at Ashcroft College to cover a permanent teacher on sick leave. In addition to supporting the students' learning with the theory and practical element of the Business and Technology Education Council (BTEC) Hair and Beauty qualification the learners are working towards, Jemma has also brought some new and exciting concepts and ideas into the group.
One involved organising a field trip to P Louise Make-up Academy in Stockport, where our future beauticians got to expand and practise their make-up skills and knowledge in a professional environment.
Apart from being presented with the "Teacher of the Term" award, Jemma also received flowers and chocolates, while Ashcroft College won £200.
About Ashcroft College
Ashcroft College is one of the Together Trust's specialist education settings, where we support young people aged 14-18, who have been (or may become) excluded from mainstream education. Our students can study a whole range of vocational subjects, from catering and construction, to hair, health and hospitality.
About Justteachers
Justteachers is a leading specialist supplier of teachers, nursery nurses and support staff into schools, colleges and nurseries nationwide.