Therapy and specialist support for Schools and Colleges
Together Trust Therapy Service can provide your school, college or nursery with a speech and language therapist and/or OT on an occasional or regular basis, weekly, monthly or termly, depending on your level of need. We can provide:
SaLT/OT input as specified on a Statement of Special Educational Needs (or EHC plan)
Direct therapy - 1:1 or group sessions
Advice and direct support to make your school a communication-friendly environment and to adapt the environment to support pupils with specific needs
Advice about language differentiation to support specific subjects
Resources to support speech, language and communication needs in school and across different subject areas
Speech and Language Therapy 
Our speech and language therapists support children and young people with a wide range of speech, language and communication needs based on the individual requirements of each young person and the settings in which they live and learn. We support people who have:
Autism Spectrum Conditions, including Asperger's syndrome
Attention and listening difficulties
Receptive language difficulties (understanding what other people say)
Expressive language difficulties (using words, forming sentences)
Communicating and interacting with others in socail settings
Speech sound/pronunciation difficulties, including dyspraxia
Stammering
Selective Mutism
Whether you have a pre-school child who is not yet talking or a teenager struggling with social skills and understanding, we can assess their language skills and implement therapy programmes or suggest strategies for use at home and school.
"Sam looks forward to his speech therapy session…it's his favourite part of the week."
Parent of a primary age pupil in a mainstream school
Advisory Teachers
Our advisory teachers are experienced in working in mainstream and SEN school settings and have extensive experience of supporting young people and the staff who teach and support them. Within our team we have teachers who specialise in working with young people who have autism and social communication difficulties; display behaviour that challenges; and with Social Emotional and Mental Health (SEMH) conditions.
We predominantly work in mainstream and special school settings at both primary and secondary level and can also provide links between home and school where additional learning support is required in the home environment. Our work includes, but is not limited to the following:
Collaborate with schools to support students with autism, social communication needs, SEMH needs and behaviours of concern
Conduct observations, audits of the classroom/school environment and provide recommendations, resources and reports
Deliver intervention sessions to individuals or groups
Provide training for staff, consultations, resources and model interventions in order to develop staff skills further
Develop peer awareness through assemblies, lessons and resource packs
For businesses and organisations, we provide training on various topics linked to autism
Advice and support on autism-friendly workplaces and recruitment procedures
Drawing and Talking Therapy - a non-intrusive person-centred therapy focussing on prevention, early intervention and recovery for young people who have suffered trauma or has underlying emotional difficulties
ACES (Adverse childhood experiences) Recovery Toolkit Programme - uses a combination of creative activities and group working to develop resilience and skills to cope with adversity
"Jake was really struggling in school. I don't think they had come across a child like him before! Your advice really made a difference; it helped staff to understand his behaviour and how to communicate with him. Thank you."
Parent of a primary age pupil attending a special school
Positive Behaviour Support (PBS)
Our PBS practitioners have backgrounds in teaching and working with young people in mainstream and special educational need settings.
Our Positive Behaviour Support Practitioners work closely with staff in a range of settings including schools and social care residential services. We can work with your setting to implement a tiered service-wide positive behaviour support model, focusing on building staff skills through training, coaching and modelling. Where support is required for an individual, we can provide a full behavioural functional assessment and an individual intervention plan.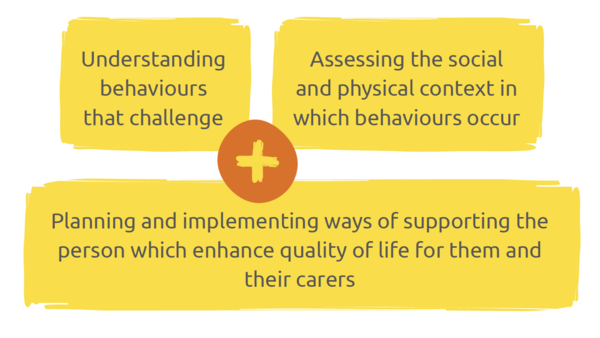 "Your support has meant that Jack could stay in mainstream school where he is happiest."
Parent of a pupil in mainstream secondary school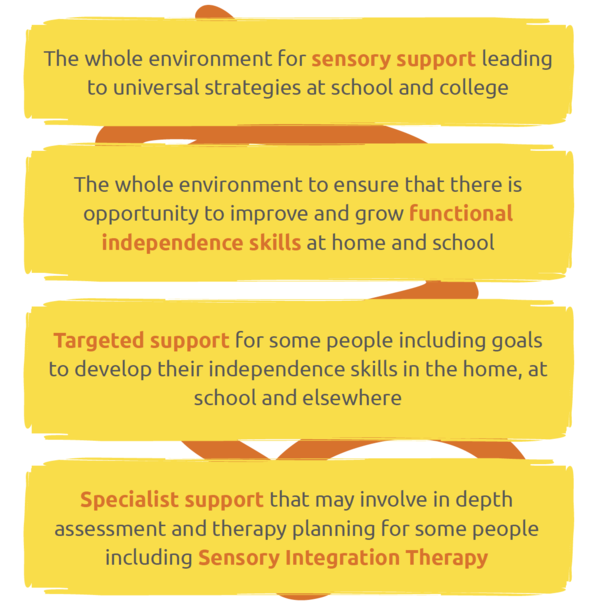 Occupational Therapy
We support practical skill development and understanding of sensory differences to maximise occupational performance. We also aim to provide training and support for those who care for people at home, school and work. Our main areas of focus include:
Personal care and activities of daily living
Handwriting and other fine motor skills
Gross motor and strength development
Engagement with preferred activities
Sensory processing differences
We have an established bank of training packages and can also deliver bespoke training and coaching if required
All our Occupational Therapists are members of the Royal College of Occupational Therapists (RCOT), are registered with the Health Professions Council and undertake postgraduate training and learning.
We can work with people and settings to identify, adapt and monitor: