New leadership at Bridge College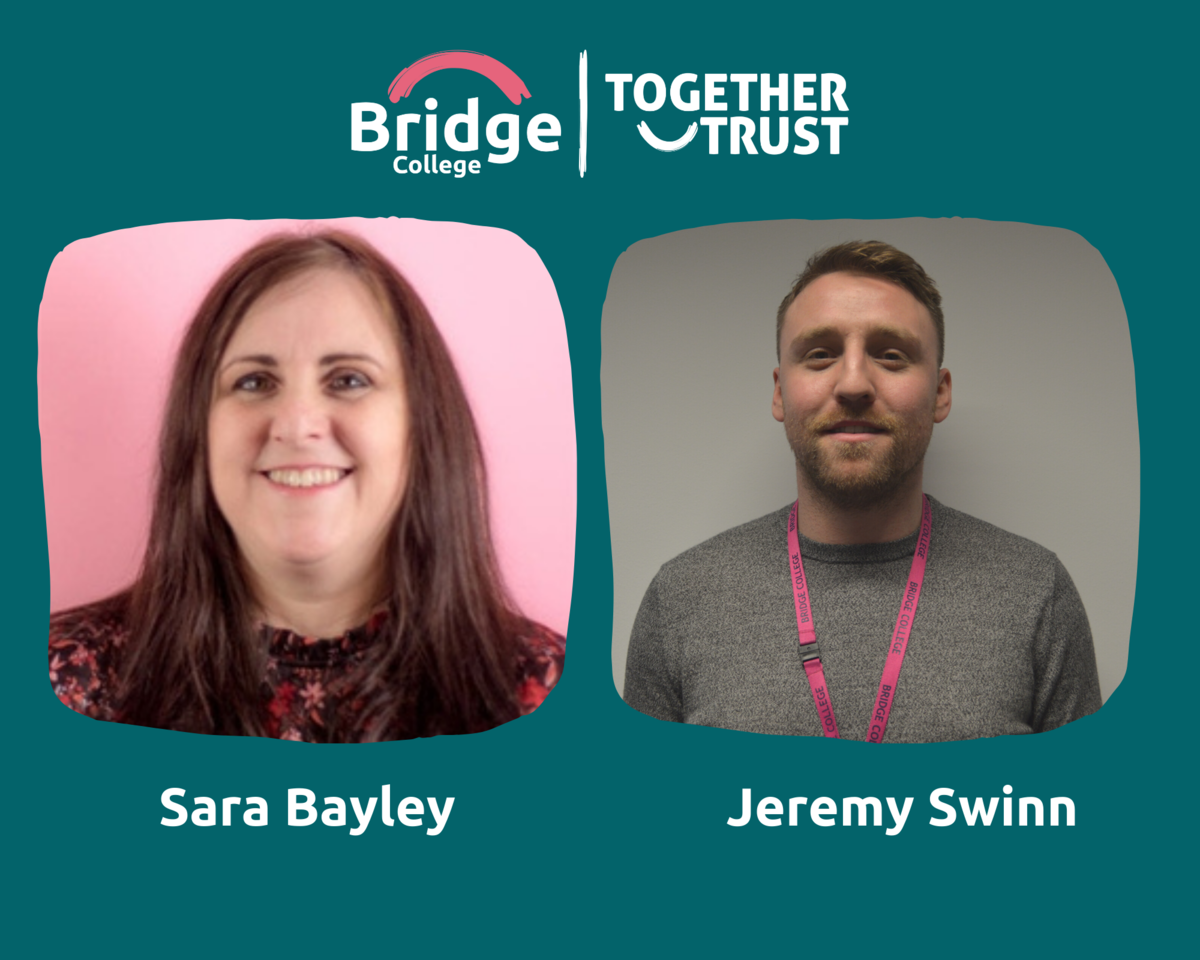 Sara Bayley,
Head of Service at Bridge College
I'm very excited to become part of #TeamBridge.
My background is in primary education, having been a senior leader and headteacher in primary settings for more than twelve years before joining Inscape House. I took the plunge to make a conscious career change and focus on special education for my future career following changes in my personal life. It gave me the motivation to challenge myself, still working in education - my passion, but with a wider age group and more complex additional needs. I've learnt so much and thoroughly love my work at The Together Trust as well as the people I work with and the students we all support.
Having worked at The Together Trust at Inscape House School for almost six years, including as Head of Service, I know of the fantastic work and wonderful staff that make it such a special college for young people. I'll be supported by Jeremy Swinn as Acting Principal, as well as the rest of the leadership team, and I'll be dividing my time equally between Inscape House and Bridge College.
It's been fantastic learning more about Bridge College and the amazing work the team do. I've settled in very well; everyone has been so helpful and made me feel so welcome. I've met a few more of the team and I hope to be able to drop into sessions to see students engaging in learning. I'm quickly getting used to names and navigating my way around the college.
I've seen many 'Wow' moments during my days at Bridge College. They include examples of great teamwork and hearing of students' successes. I'm sorry I missed the rhubarb crumble last week made from the rhubarb the students grew from seed!
I'm really enjoying sharing good practice and ideas from Inscape and pinching ideas for Inscape from Bridge. It's great when I can put staff in touch with colleagues in each establishment to help them and I'm certain we will all continue to grow from strength to strength, making the most of this way of working together. 
Sara
Jeremy Swinn,
Acting Head of Bridge College
I am delighted to have been given the opportunity to be the new Acting Principal at Bridge College. It is a place where I have worked for eight years, initially as a tutor and later progressing into middle and senior management. My experience throughout my time at the college is that staff live and breathe our core value of putting the students at the centre of everything we do, and it's been fantastic to see how this approach has led to countless students receiving a fantastic education and seeing the positive impact Bridge College has had on their lives.
It's a pleasure to lead such an experienced and dedicated team that have the skills and commitment to continue to drive the development of the college. I will be working alongside a highly capable senior leadership team and will have the support of Sara as Head of Service and the wider Together Trust.
I am looking forward to the future of the college and we're already planning exciting and innovative developments to enhance students' experience. Some of this includes increasing the extracurricular opportunities available to students, working with even more organisations that can provide student work experience placements, further enhancing our collaborative work with families to support students transfer skills learnt in college to home, and becoming a trauma-informed college.
Jeremy