The National Youth Theatre bringing drama to life at Bridge College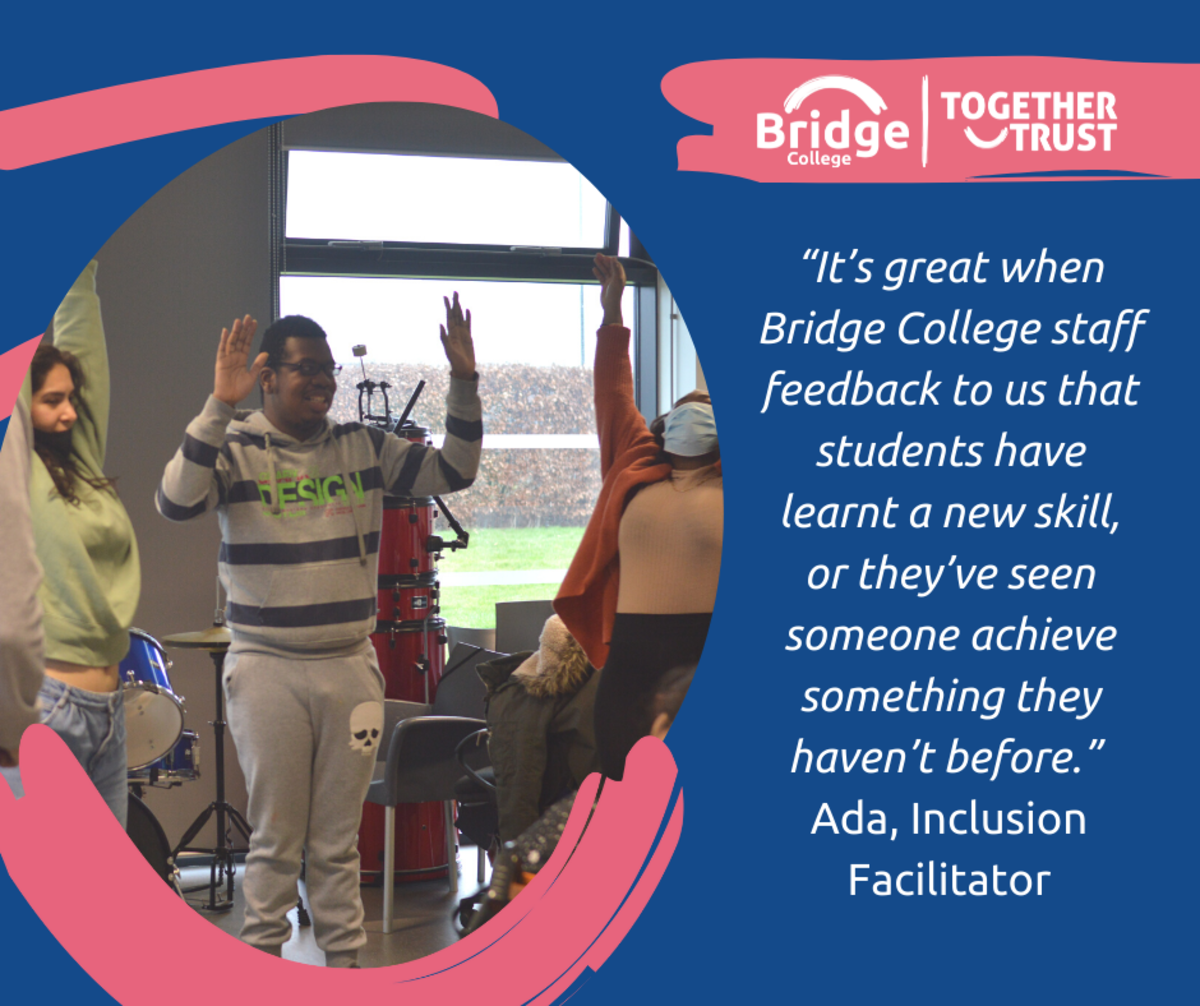 Inclusion Facilitators, Ada and Jayran from the National Youth Theatre of Great Britain have been leading drama sessions in Bridge College for the last 4 months. The National Youth Theatre said, "Inclusive Practice is essential to the work that we do, and we want to make sure that NYT is always a welcoming and accessible place for disabled and neurodiverse young people."
Inclusion facilitators are working in schools and colleges, as part of a nationwide initiative, to bring a love of drama to life for students and to learn how to make the work they produce accessible to all. As part of this experience, Ada and Jayran are sharing their extensive knowledge with college tutors and demonstrating how drama can be used as a fundamental tool for social and developmental skills.
Ada and Jayran have been introducing drama and the arts to the learners here at Bridge College while being able to reflect and analyse the theatre industry from the learner's point of view. This will then help them going forward, to make their practice an accessible experience.
As part of the project, the facilitators have been working with the PMLD (Profound Multiple Learning Disabilities) learners. They've been developing Shakespeare into a sensory story. This is making Shakespeare accessible for an audience who may not have been able to access it before. In other sessions, Ada and Jayran are bringing drama to life for students who may not have experienced anything like this previously.
Ada, "It's great when Bridge College staff feedback to us that students have learnt a new skill, or they've seen someone achieve something they haven't before." 
During this National Youth Theatre initiative, all the practitioners taking part are sharing the knowledge gained with their peers. The goal is that more people will be able to enjoy theatre throughout the country regardless of their disability.
Jayran, who also works as a Creative Practitioner and Young Company Leader for The Dukes Theatre (Lancaster) says," The creative arts and drama is a powerful mechanism that can and should reach every person and it's wonderful to witness the positive impact it has had on students as they come out of their shells and impress us every week in our sessions." 
Ada, who is also working with DadaFest and Extant says, "Being visually impaired myself has led me to want to produce work that's grounded with inclusive techniques and not limited by them." 
Over the next few weeks, students will be working towards a piece of work that will be filmed. We can't wait to see it!
Tutor, Helen H says, "Working with Jayran and Ada has really enabled me to develop my understanding of how drama, and in particular musical and theatrical conversations, can take place through movement.  I have really enjoyed collaborating with them and watching the students' interaction and delight during the sessions."