Launching the Together Trust Pumpkin Patch Competition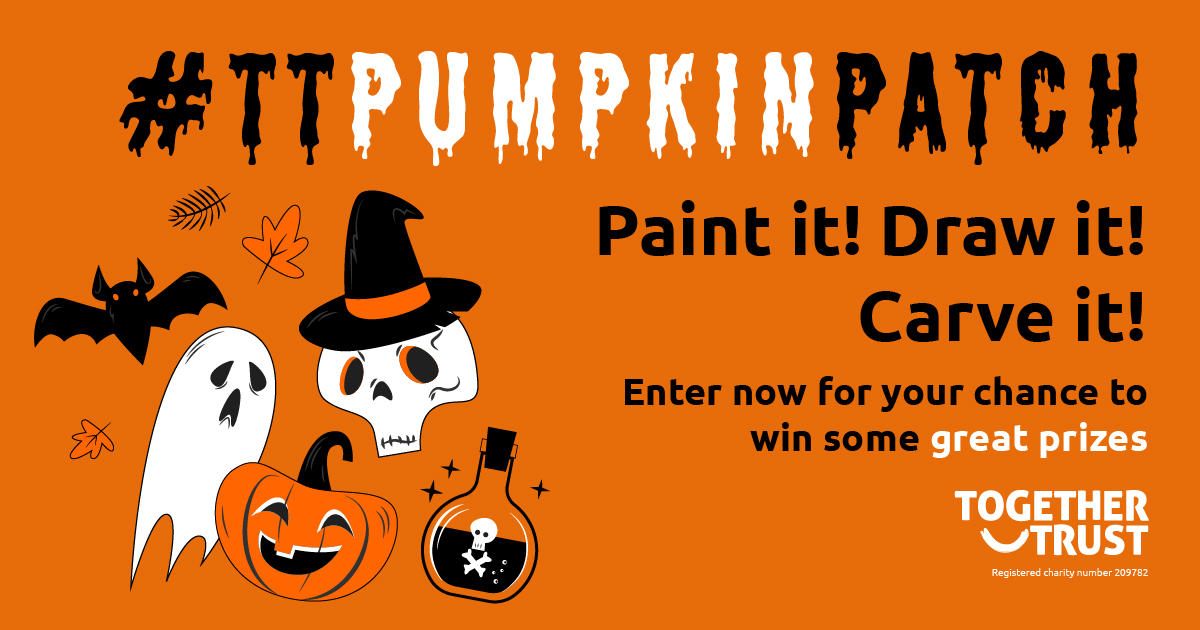 Although Halloween might be a bit different this year, it's still an exciting time of year for the young and the young at heart.
That's why we are launching #TTPumpkinPatch competition! Paint it, draw it, carve it, we want to see your fantastic pumpkin creation skills!
To take part either:
The competition is open to all ages and each category will have a prize:
Under 10's: Crafty hamper
10 - 17yrs: £10 Hobbycraft voucher
18+: £10 Amazon voucher
Entry to the competition is a £2 donation on our website. Don't forget to include the name and age of the pumpkin designer.
Submit photos of your pumpkin by Saturday 31 October and we will be announcing the spooktacular winner on Monday 2 November on our social media!
Below you will find a template to create your pumpkin designs, an informational flyer with details on how to take part and full terms and conditions for our Pumpkin Patch competition! 
Full competition terms and conditions
The competition opens on Friday 16th October 2020 
The closing date for entries is Saturday 31st Oct at 23:59. Any entries submitted after the closing date will not be entered into the relevant category. 
Entry into the competition is £2 however donations of £2 and over will be accepted and all donations are used to support the work of the Together Trust. 
There is no limit to the amount of entries one person can submit 
Each pumpkin submission is classed as one entry into the relevant category. Entries cannot be duplicated in multiple categories 
Entry is open to all residents of the UK 
How to enter 
Email a picture of your entry to fundraising@togethertrust.org.uk with your name and selected category. 
Upload a picture to our social media pages @SupportTogetherTrust (Facebook), @TogetherTrust (Twitter) using the hashtag #TTpumkinpatch and the category you wish to enter 
Each pumpkin submission is classed as one entry into the relevant category. Entries cannot be duplicated in multiple categories 
All entries must be submitted by someone aged 16 or over. 
If photos of yourself, with your entry, is submitted this gives the Together Trust full consent to use these images as promotion or announcement of winning entries as part of this competition. If you do not wish your image to be shared please ensure photos are not included in your entry.  
There are 3 prizes to be won with one prize per category. The competition prizes are as follows: 
Under 10s – Crafty Hamper 
10-17yrs - £10 Hobbycraft Voucher  
18+ - £10 Amazon Voucher  
No cash alternative is available 
Judging Panel 
The judging panel will select a winning design for each category. All entries must be original. The judging panel's decision is final and binding and no discussion will be entered into regarding entries or the competition. 
The winners draw will take place on Monday 2nd November 2020 and winners will be notified by email or social media  
If a winner does not respond to us within 5 working days of being notified by us then the winner's prize will be forfeited and another eligible entry will be drawn. 
General 
The winner may be required to participate in promotional activity and material. By entering the competition you agree to have your name released as the winner if required. 
Agreement to these terms and conditions- entry to this competition shall constitute your acceptance of these terms and conditions and your agreement to be bound by them. These terms and conditions take effect immediately upon entry to the competition. 
Disqualification- We reserve the right to reject any entry, withhold any prize or disqualify entries from the competition if we suspect you have failed to comply with the terms and conditions listed or of fraud, cheating or dishonesty 
No responsibility can be accepted for entries that are lost or delayed, or which are not received for any reason. Incorrectly completed, late or illegible entries will not be accepted. 
Entries must be or not contain anything offensive, illegal, abusive, defamatory or explicit.  
By entering this competition you confirm this entry is your own and you confirm that your submission of the entry does now and will not infringe any third parties intellectual property rights. 
We do not claim any rights of ownership to your entry but we may use, display, publish, copy, transit, edit, alter, store, reformat your entry for the purposes described in clause 24. 
Please read our privacy policy which tells you how we use any personal information we may collect about you when you enter a competition 
Insofar as is permitted by law, we, our agents or distributors will not in any circumstances be responsible or liable to compensate you or accept any liability for any loss, damage, personal injury or death occurring as a result of taking up the prize (if you win) except where it is caused by our negligence or the negligence of our agents or distributors or that of our or their employees. Your statutory rights are not affected. 
USE OF PERSONAL AND OTHER INFORMATION FOR PROMOTIONAL PURPOSES: By entering this competition, you agree that if you win we may use your entry, name, image, and county of residence for promotional purposes (including on our websites, social media, within our newsletter or within promotional emails). Please do not enter this competition if you do not want your information to be used. 
CANCELLATION OR WITHDRAWAL OF COMPETITION: We reserve the right at our absolute discretion to withdraw or cancel this competition without prior notice and without liability to any party if it becomes necessary to do so. 
CHANGES TO THESE TERMS AND CONDITIONS: We reserve the right to amend these terms and conditions at any time. Revised terms and conditions will be available at www.togethertrust.org.uk. It is your responsibility to keep up to date with any such changes. 
RELEVANT LAW: This competition and these terms and conditions are governed by the laws of England and you agree to submit to the jurisdiction of the English courts if any dispute arises. 
Promoter: This competition is run by Together Trust, Schools Hill, Cheadle SK8 1JE. Registered charity number 209782. 
References to we, us and our in these terms and conditions are references to the promoter