Humzah developing work skills and growing in confidence at the National Football Museum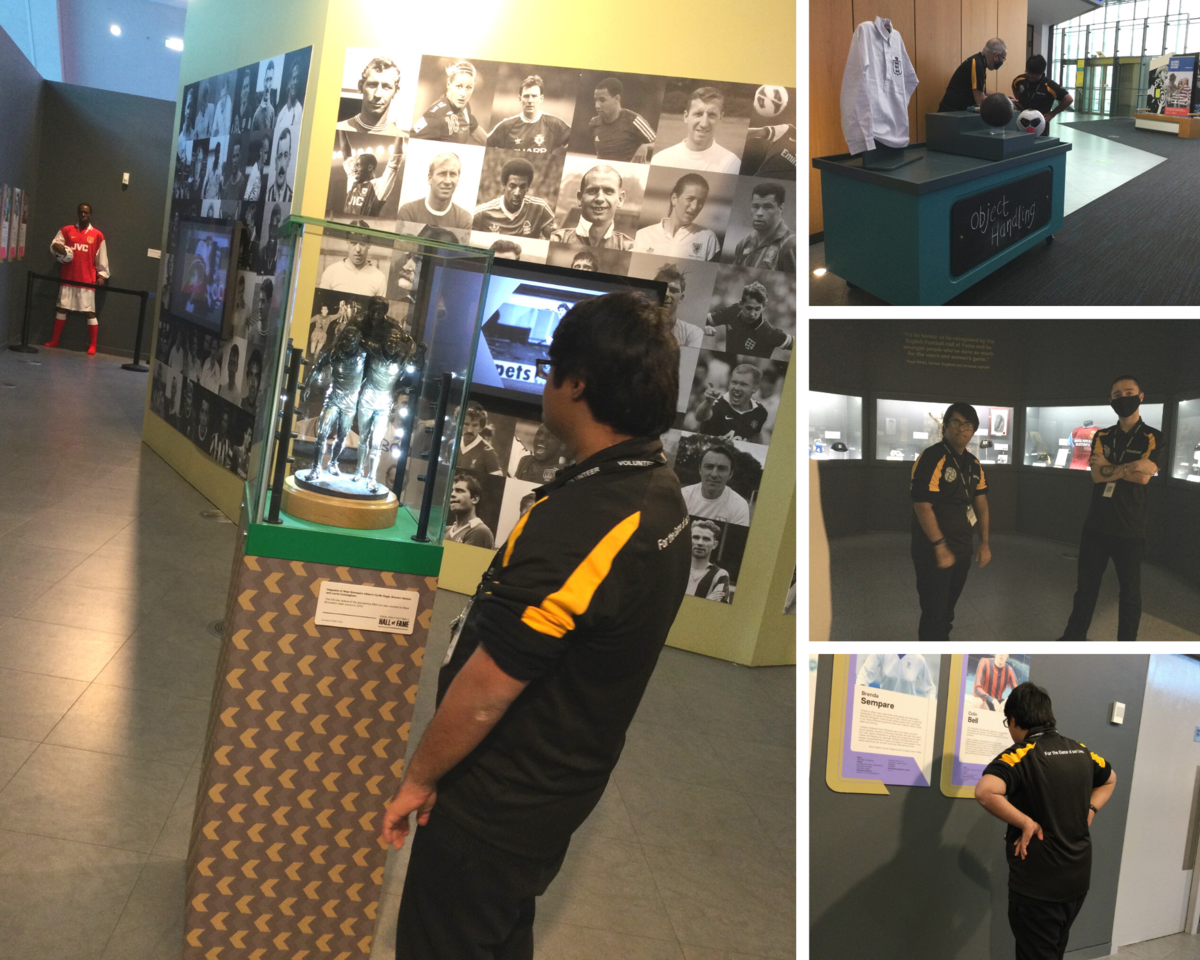 At Bridge College, we prepare our students for all aspects of adulthood, from community life to independent, healthy living and the world of work. We want everyone to leave feeling confident for their future. Every day, our students develop their work skills and self-confidence. We do this by supporting students to develop on-the-job training through work placements with community-based partners.
Chloe Parker, Job Coach at Bridge College, talks about how Humzah has developed his work skills and confidence while working at the National Football Museum as part of his college programme.
"Humzah began his work experience in January 2022. His aspirations were to work with Manchester City or to get involved in acting. So, at college we got in touch with the National Football Museum. Here, he would have the opportunity to do both. His role would be speaking about Manchester City football club and guiding people around the museum. 
Humzah loves being a tour guide and offers help around the museum. He works on the moving and handling table and talks about some of the objects with support from the museum staff. 
The staff at the museum say,
"Humzah has been an enthusiastic, positive addition to the museum's volunteer team. Our Friday volunteer team really enjoy interacting with Humzah and appreciate his contribution. Humzah has definitely grown in confidence during his time at the museum. He's starting to share his knowledge of football (especially Manchester City) and we hope to introduce new tasks to Humzah's role next term."
Bridge College and Humzah's staff are really proud of him and the work skills he's developed at the museum this year.
There are lots of ways learners benefit from work experience:
Learn new skills valued by employers to improve your CV
Feel more confident and pick up new knowledge
Meet and work with new people - some of these may become new friends!
Improve your health and wellbeing
Improve your communication and social skills
Become more independent by learning how to travel to work on your own
If you're interested in applying to Bridge College and would like to come into college for a tour and to meet staff, please get in touch: 0161 487 4293 or admin@bridgecollege.ac.uk. We can't wait to meet you!