Christmas at the Together Trust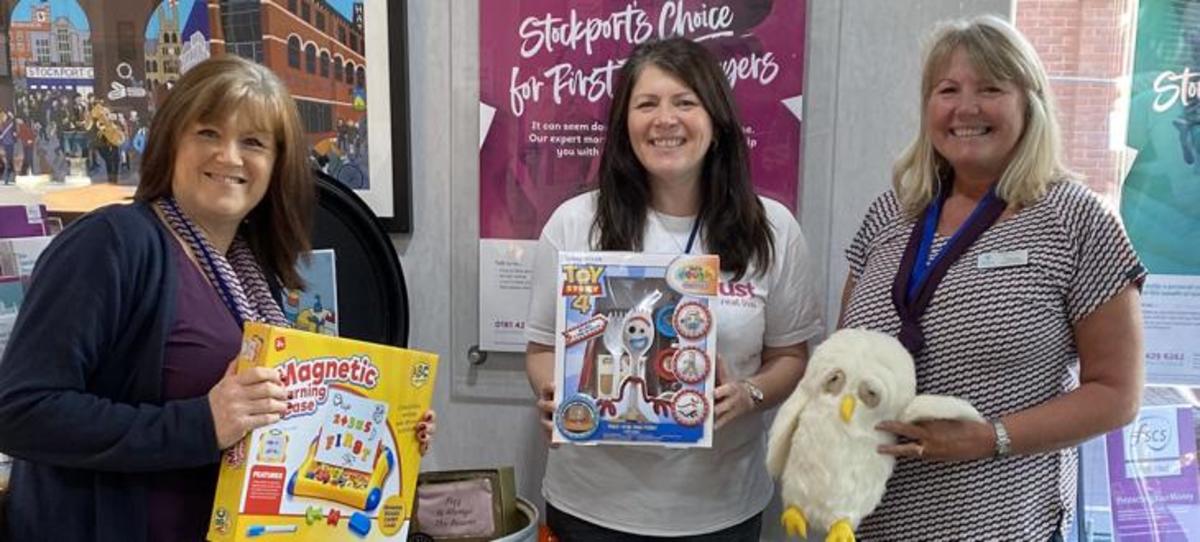 It's beginning to look a lot like Christmas at the Together Trust!
As ever the festive season kicked off with our annual carol concert, which saw children from our schools delighting concert-goers at St Mary's Church in Cheadle. This was closely followed by the Medicines Evaluation Unit's Christmas Fair at their headquarters next to Wythenshawe Hospital, which raised nearly £1000 for the Trust. MEU has chosen Together Trust as their charity of the year for the second year in a row and we're incredibly grateful for all their support.
Hot on their heels, or possibly wheels, in this case, was the Roughleys Christmas Toy Run where once again a friendly fleet of local bikers, many dressed as Father Christmas and his helpers, set off on a ride from Stockport to our Cheadle HQ to drop off toys for our Christmas toy appeal. This is now 19 years in a row in which Roughleys have supported us at Christmas, a magnificent record of generosity.       
This year the Trust teamed up with the Vernon Building Society and Imagine Radio for our Christmas toy appeal. Lucy Sawdon-Molloy, Head of Fundraising, said: "We've been collecting toys at Christmas for disadvantaged children in the Stockport area for as long as anyone can remember and our partnership with Vernon's and Imagine Radio has produced a real bumper year.
"The six toy collecting bins at their branches have been filled to overflowing and the generosity of the public this year has been overwhelming. Vernon's and Imagine have been absolutely brilliant and the staff in both organisations should be really proud of themselves. Everyone involved and everyone who donated toys have genuinely helped make Christmas a happier time for local disadvantaged children."
Elsewhere in the Trust friendly Christmas Elves from Bridge College, the Together Trust and the lovely people from Insight UK packed our Christmas Hampers. Lucy Sawdon-Molloy said: "This year's Christmas Hamper Appeal has been an absolutely phenomenal success!
"Thanks to the kindness and generosity of the public and Together Trust staff we were able to assemble 59 hampers, more than ever before, to help care leavers have a happy Christmas. We're incredibly grateful for the support of everyone who helped make this happen." 
The Trusts three special education services have also been having lots of festive fun. At Inscape students enjoyed a Christmas lunch and filled with Christmas spirit (and Turkey) they watched a magical performance of the Snow Queen, put on by the Quantum Theatre Company.
Meanwhile over at Bridge College parents and carers took time out to attend the college's annual Christmas fair. Students really enjoyed making fantastic cards, decorations, cakes, and lanterns to sell and staff and students are now full of festive cheer.
Over at Ashcroft students turned into detectives for the week, participating in a murder mystery, picking up clues in each lesson to solve the mystery. Also, as part of the school's EDGE initiative pupils have also been making and selling handcrafted Christmas goods through an enterprise project, raising more than £50 pounds. In addition to this, in a truly touching display of Christmas spirit, one young person who is one of the schools nurture pupils has been making and selling Christmas cards in order to donate the proceeds (another £50) towards helping make Christmas for young people in care a happier one. This is all the more poignant given the fact that the student is also a looked after young person.                                                     
Julie Isted Director of External Affairs and Governance said: "It's so wonderful to see the spirit of Christmas alive and well throughout the Trust and to witness, once again, the generosity of our workforce, students, partners, and the public.    
"Christmas is traditionally a time for giving, but it's also a time for counting our blessings and for saying thank you. We simply couldn't do all that we do without the generosity of our corporate partners, our supporters, our volunteers and our donors, not just at Christmas but throughout the year.
"The Together Trust provides 47 different services that support more than 2,700 children, adults and families across the North West of England. The help, support, and generosity of our corporate partners is a vital factor in the ongoing provision of those services and we're incredibly thankful to all those involved. We've had a great year and we're really looking forward to 2020 when we will be celebrating our 150 anniversary!"  
Merry Christmas everybody, and a happy New Year to you all!