Christmas Jumper Day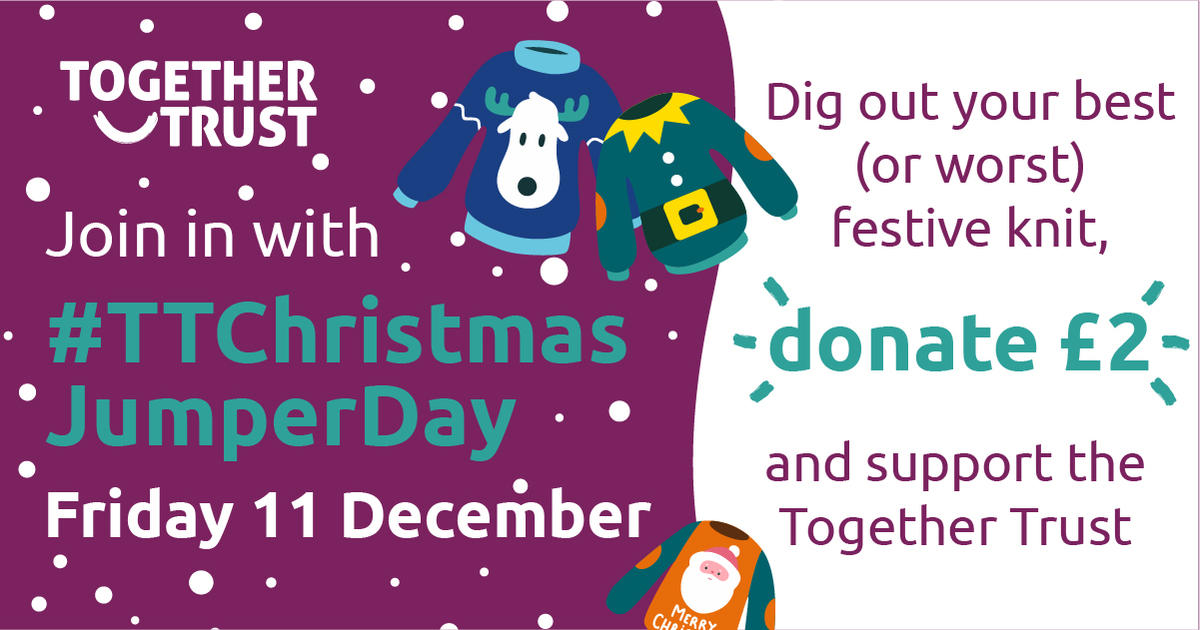 This Christmas we're asking everyone to get involved with #TTChristmasJumperDay.  
Whether you're working from home, studying at school or walking the dog, get into the festive spirit. Put on your best (or worst) festive knit, donate £2 and join the Together Trust in supporting thousands of children, young people and adults this Christmas.
Alex's* story 
Alex has Cerebral Palsy and Epilepsy. Education had a challenge because Alex felt there were too many barriers due to their mobility and unstable seizure activity. But thanks to the Together Trust team at Bolton College Alex's education experience was transformed. 
By the second term at college, Alex's confidence had improved significantly, their social skills had increased, and Alex's anxieties and seizure activity had decreased. 
Alex said: "I really want to thank all of my support workers from when I first came to college and when Sarah came to my house to meet me and my mum and said that she will make sure I am safe and will be able to enjoy coming to college. 

"I love having Steph to help me she has helped me to make some new friends she has helped me on my bad days when I have a seizure and made sure I am safe and doesn't treat me any different to everyone else. I just want to say thank you to everybody."  
*Names have been changed to protect their identity
We're raising money to support people like Alex*. Will you join us in spreading some festive cheer, wearing your Christmas Jumper and donating just £2.? Don't forget to share your pictures on social media using the #TTChristmasJumperDay 
Get involved with your friends, family, business, school or community group this December.  
Your donations make a real difference to the lives of the people we support.  
To get in touch with our fundraising team email fundraising@togethertrust.org.uk