Bridge students bring local community issues to the attention of Andy Burnham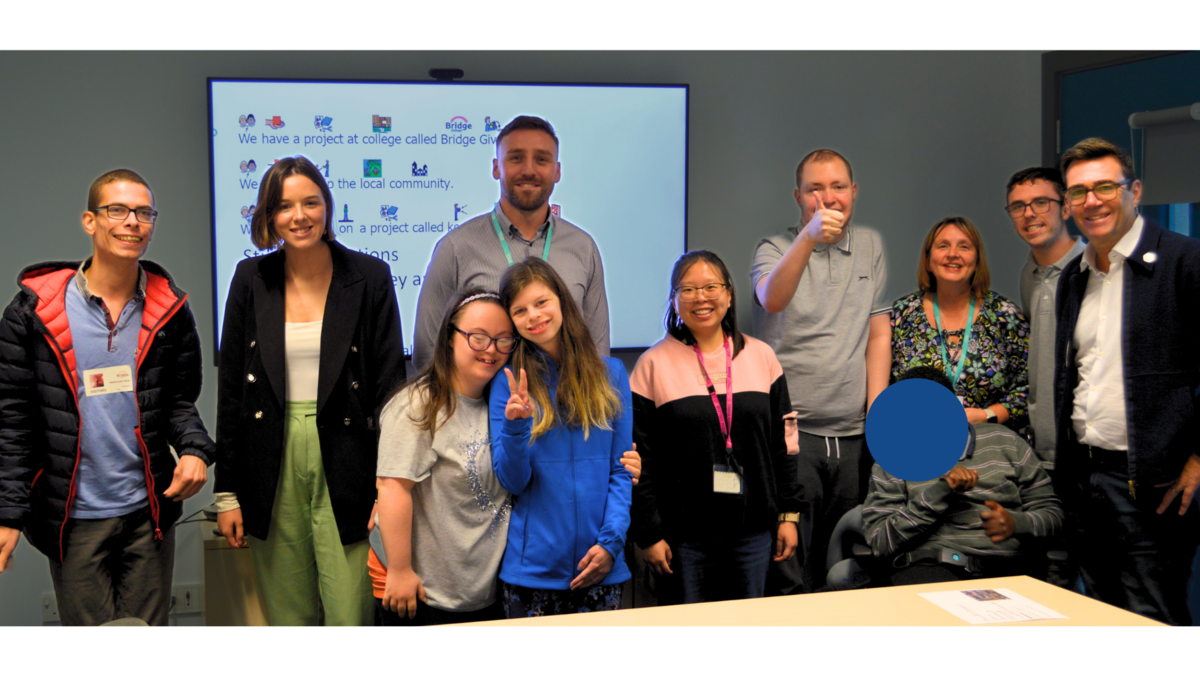 This occasion proved to be a remarkable opportunity for our students to engage with the Mayor and discuss their impactful initiatives through 'Bridge Gives Back': a programme where students work with and help the local community.
Nathaniel, who has been collaborating with the students on their campaign for a more accessible train station, joined the students, along with Lucy, the Campaigns Manager from Together Trust.
Elliot, one of our students, delivered an exceptional presentation highlighting the accessibility issues plaguing the local train station. He provided a comprehensive overview of the necessary improvements, leaving no detail unaddressed. Elliot boldly challenged Andy Burnham to investigate why the station had not undergone necessary upgrades.
Following Elliot's presentation, Millie and Lee presented another pressing issue—the absence of bins and the persistent litter problem outside the college. They emphasised the hazards posed by fly-tipping in the area.
Heather expressed concerns about the inadequate number of drop kerbs, particularly highlighting the dangers students face when leaving the college, as they are forced to navigate the road instead of using the pavement.
Dieu then inquired about the availability of funding to support these vital improvements for enhanced accessibility and the betterment of the local community.
Andy Burnham agreed to approach the Manchester City Council to address these concerns and provided guidance on accessing funding opportunities to make green spaces around the college grounds. 
The visit was an excellent opportunity for our students to interact with Andy Burnham, and we eagerly anticipate his next visit to our college. 
Andy Burnham said, 
Everybody in our city-region should be able to travel around confidently and safely, and it's simply not acceptable that people here in Greater Manchester still face a lack of facilities to meet their needs," 
"We're doing all we can to call out accessibility issues where we find them and push for equal access for all rail users. To see young people so engaged in this campaign and committed to making a difference in their communities is brilliant, and I'm proud to be backing them all the way."
Jeremy, the Principal said,
 "I'd like to thank Andy Burnham for visiting the college and meeting the students. The students did a fantastic job in presenting the issues they face within their local community and were clear on how they would like to be involved in making these improvements" 
Millie, a student said,
"It was amazing to meet Andy Burnham he really listened!"
We like to thank Andy Burnham for listening to the students and hearing about their campaigns.