Together Trust welcomes new trustees to its board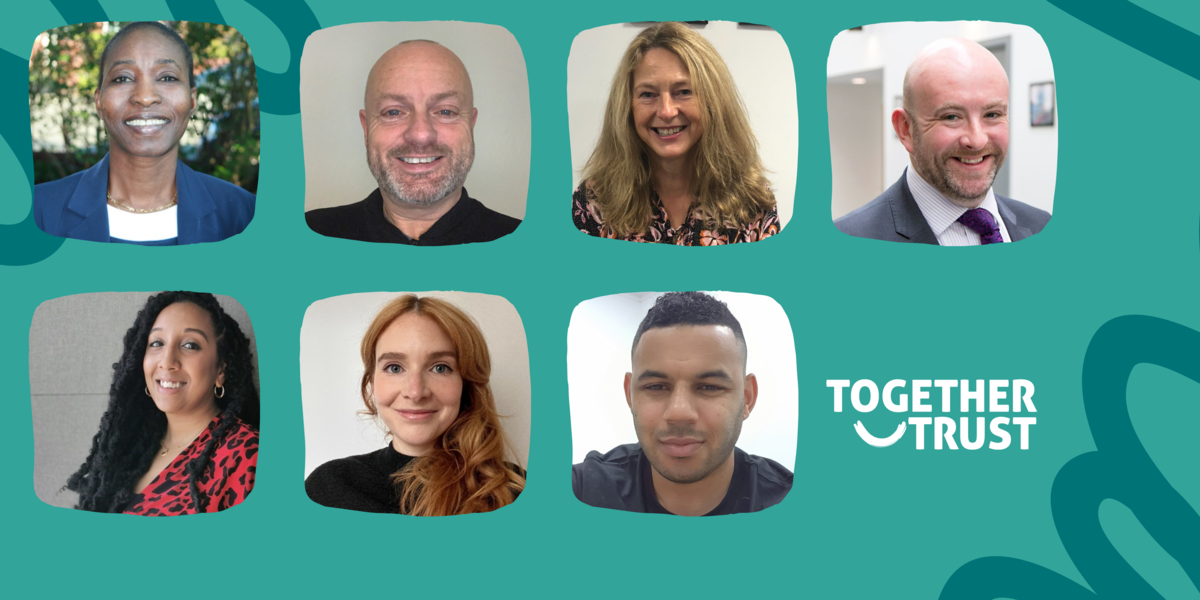 Leading North West disability charity, The Together Trust, has strengthened its board with the appointment of seven trustees.
The new members, Gani Martins, Geoff Durbin, Jane Walapu, Jane Grime, Lyndsey Stark, Marcell Edwards and Nick Lowry each bring a wealth of expertise and lived experience to the organisation. 
The Together Trust cares for and champions the rights, needs and ambitions of care-experienced children and people with disabilities, autism and mental health differences.  
After a busy season of interviews, the Together Trust is delighted to welcome yet more passionate and committed trustees to its board. They bring a range of experience in safeguarding, social care, fostering, education and autism services, in addition to their varied professional knowledge to enrich our team.  Our aim is to deliver long-lasting social impact with a board that champions the rights, needs and ambitions of the people we support.
Giles Gaddum, Chair of trustees
I'm incredibly proud to become a trustee at the Together Trust. In the short time I've spent with the team so far, I'm humbled by how the trust puts the children, young people and adults we support at the centre of the decisions, changes and services we provide. I'm excited to bring my experience in HR, diversity and inclusion to the trust to support increasing our reach and accessibility across the North West.
I have long been an admirer of the phenomenal work of the Together Trust, so I didn't need to think twice when the opportunity arose to join their board.   Hopefully, the combination of my foster carer role with significant commercial and fund-raising experience will prove to be an asset to the board as we look forward to the next 150 years of delivering care, support and education services within the North West.
About the new board members
Gani Martins
Gani Martins is a registered social worker and an Improvement Consultant. She is also the Chair of Board of Trustees AFRUCA – Safeguarding Children.
Geoff Durbin
Geoff has over 35 years' commercial, marketing and fundraising experience, and has been a school governor. He is a foster carer, Vice-Chair of the Stockport Foster Carers' Association and Vice-Chair of the supporting people subgroup at the Together Trust.
Jane Grime
Jane Grime is the link governor for careers and employability at Together Trust's Inscape House School. She has considerable experience in using autism services in the North West. 
Jane Walapu 
Jane Walapu is an Executive Assistant and Chief of Staff with the Co-op. She is a student member of the British Association for Counselling and Psychotherapy, and is a former support line volunteer at NAPAC (National Association for People Abused in Childhood).
Lyndsey Stark 
Lyndsey Stark is a consultant to the Executive team at the Youth Endowment Fund where she has led a large operational and cultural transformation programme. She has a master's degree in human rights.
Marcell Edwards
Marcell Edwards is a Global Talent Acquisition Manager with Adidas and is an advisory board member of the Leaders Black Excellence Advisory Board, supporting access to sports industry careers for people from disadvantaged groups.
Nick Lowry
Nick is the Chief Education Officer for a large multi-academy trust.  Previously he has been an executive headteacher and headteacher of mainstream secondary schools in areas of high socio-economic disadvantage. He is currently a serving Ofsted Inspector.  
Further information
For further information please contact Camilla James at Together Trust on 07818 407786 or email camilla.james@togethertrust.org.uk
About the Together Trust 
Since 1870 the Together Trust has been providing life-changing care, support and education services in the North West of England. The charity works to challenge the negative perceptions and missed opportunities that people with disabilities, autism or complex needs and care experienced people face in society. With a team of over 900 dedicated people, they work flat out to create a society where people are valued within their communities. 
Find out more about the Together Trust on our website www.togethertrust.org.uk. Follow us on Twitter and Facebook.