Award winning disability vlogger visits specialist college in Openshaw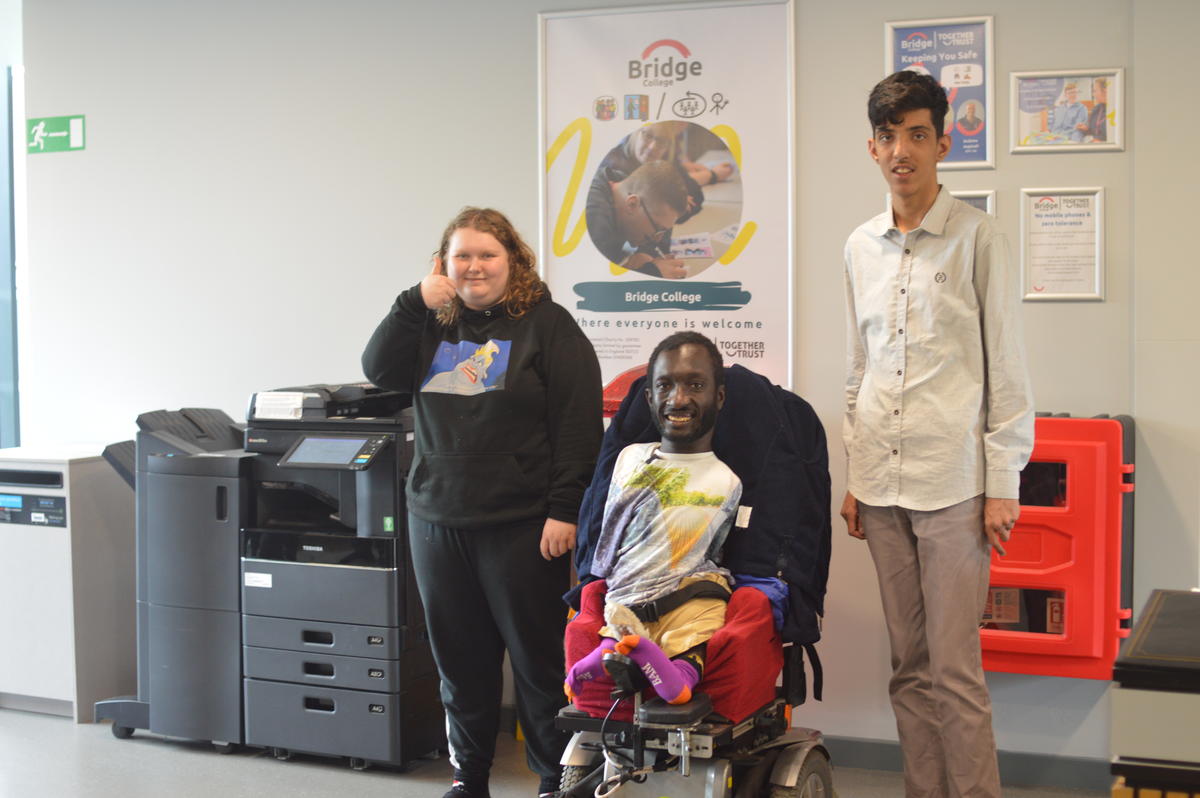 Award-winning vlogger and disability advocate, Isaac Harvey, visited Bridge College in Openshaw this week to share his 'This ability' message with students.
The influencer, who was born with a form of limb hypoplasia, is a powerful advocate of what disabled people can achieve and uses his videos to inspire millions of followers. 
Natasha, 23 and Jamal, 17, gave Isaac a tour of the college and its facilities. 
The college is part of the charity Together Trust and supports 16- to 25-year-olds with disabilities, complex needs and autism.
A spoken-word piece, recorded by Isaac in collaboration with the Together Trust, was watched by students before his arrival. The video called 'This ability 2' challenges viewers to rethink their beliefs about disability.  
Isaac Harvey, President of Wheels and Wheelchairs said: "It was amazing to be given a tour of Bridge College by students. I enjoyed getting to see hands on what they're doing for the disabled community and supporting young people to develop skills in the real world."
Jeremy Swinn, Principal of Bridge College said: "We were honoured that Isaac visited Bridge College over his busy schedule in the North. 
The students had a great experience. He is a fantastic role model and his commitment, and success advocating for people with disabilities is inspirational."
ENDS
Further information
For further information please contact Camilla James at Together Trust on 07818 407786 or email camilla.james@togethertrust.org.uk 
About the Together Trust 
Since 1870 the Together Trust has been providing life-changing care, support and education services in the North West of England. The charity works to challenge the negative perceptions and missed opportunities that people with disabilities, autism or complex needs and care experienced people face in society. With a team of over 900 dedicated people, they work flat out to create a society where people are valued within their communities. 
Find out more about the Together Trust on our website www.togethertrust.org.uk  
Follow us on Twitter and Facebook.
About Bridge College
Based in Manchester, Bridge College offers specialist education for students aged 16 to 25 with learning difficulties, disabilities, complex health needs and autism. Every day they provide personalised support, tailored learning and hands-on life skills to give young people the