Ashcroft School students have a heart for NHS workers and patients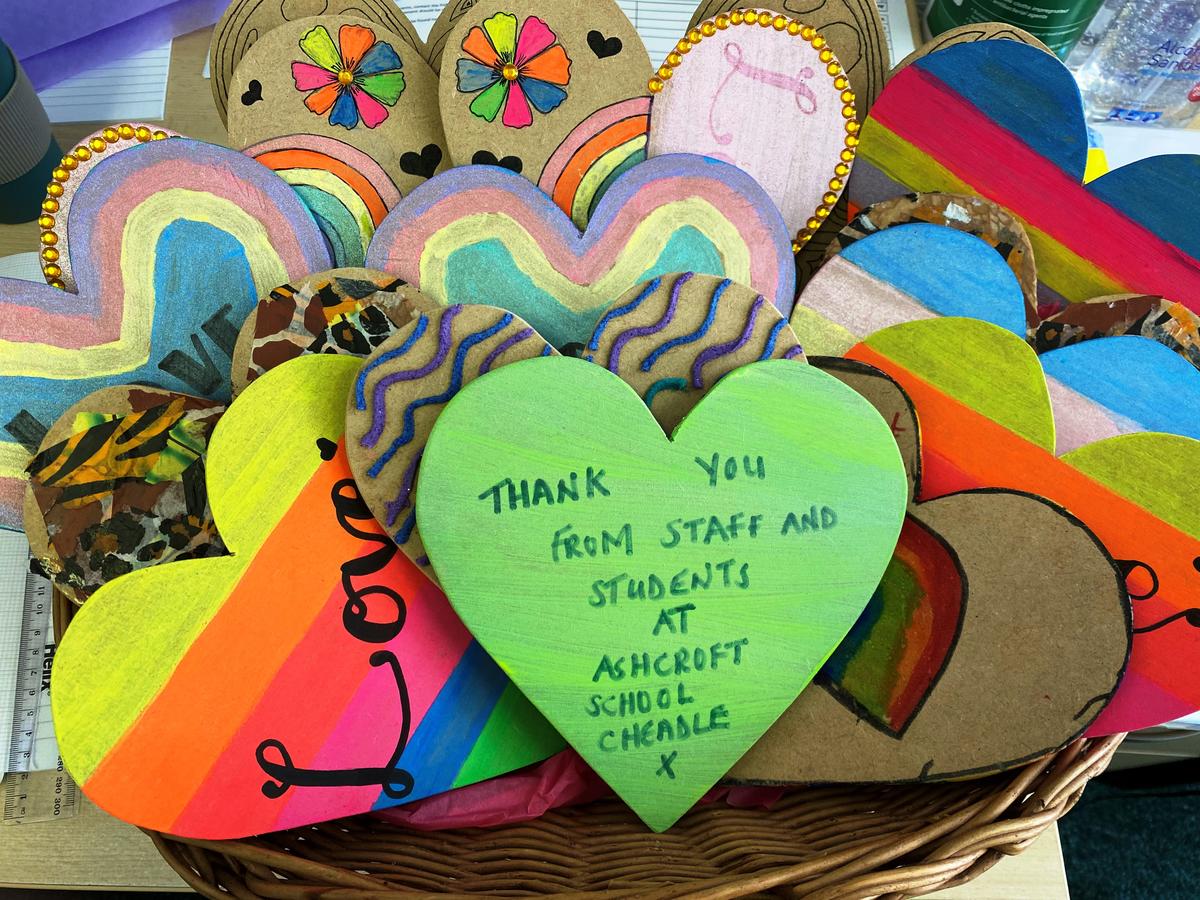 Students at Ashcroft Services, the Together Trust school that supports children and young people with social, emotional and mental health needs, have been getting crafty to show their support for frontline NHS staff and Covid-19 patients at Wythenshawe hospital.
The project was led by Angela Daniels, a learning support assistant at the school. Angela said: "Everyone here at Ashcroft is very grateful to our local NHS frontline staff and we've all been keen to show this, especially the children.
"A very close friend of mine is a critical care nurse at Wythenshawe Hospital and I knew they would really appreciate support from our students. With this in mind we helped the children to individually decorate wooden hearts, in their own unique style and with their own personal messages of support, for all the staff and Covid-19 patients in the intensive care unit (ICU) at Wythenshawe hospital.       
"The children did such a good job, and the hearts were so colourful and so filled with love and sympathy. The staff at the ICU were genuinely touched by what the children had done for them and really appreciated the support for both them and their patients."  
Eileen Sheerin, head teacher at Ashcroft, said:  "Art plays an important part in what we do at Ashcroft, where we use it to help our students to learn how to express themselves and how to communicate what they're thinking and feeling.
"Now more than ever it's wonderful to see our young people using these skills to show care and compassion to those who are sick, as well as their thanks and support to local frontline NHS staff.
"I'm so proud of our students for doing this and I'm very proud of Angela and all she's done to make it happen. She's helped bring out the best in the children, and helped us show that the nurturing approach we take at Ashcroft helps our young people to reach their full potential."
The Together Trust has been using art to support frontline carers during the Covid crisis, with drawings and pictures  being displayed in local NHS hospitals and our own care settings.  
Ashcroft supports children and young people with social, emotional and mental health needs using bespoke education packages that are tailored to individual student's needs. The school uses a nurturing approach, building trust with students to help develop their confidence, allowing them to break through barriers and achieve their goals. 
END
Notes to editors:
Pictures:  
Ashcroft 1:  Hearts for the NHS created by children at Ashcroft School
Ashcroft 2:  Angela Daniels, a learning support assistant at Ashcroft School, with a basket of love for the staff and patients at the ICU at Wythenshawe Hospital
Ashcroft 3:  Staff at the ICU at Wythenshawe Hospital with the hearts created for them by children at Ashcroft School  
About the Together Trust
Since 1870 the Together Trust has been providing life-changing care, support and education services in the North West of England. The charity works to challenge the negative perceptions and missed opportunities that people with disabilities, autism or complex needs and care experienced people face in society. With a team of over 900 dedicated people, they work flat out to create a society where people are valued within their communities.
Find out more about the Together Trust on our website www.togethertrust.org.uk
Follow us on Twitter and Facebook and use #TogetherTrust.
Further information
For further information please contact Alex Blythe at the Together Trust: Alex.Blythe@togethertrust.org.uk