Therapy support
Just like our learning programmes, therapy at Inscape House School is shaped to fit each student. 
Our team of experts work with you, our educational team and external professionals to create an individual therapeutic programme. So every student gets the support they need to help them thrive.
"The therapeutic team work hand in hand with the classroom teachers and this reinforces leaders' vision that pupils are at school to learn."
Therapy at Inscape House School
Speech and language therapists (SaLT)
For some young people, unlocking their communication skills can be the key to progressing their learning and independence. Our qualified SaLT team support students to maximise their speech, language and communication ability. The team promote a total communication approach, which means we value all forms of communication.
Occupational therapists
Our occupational therapy team helps young people develop their full potential. Taking an individualised approach, they support students' academic learning, behaviour and independence skills. Some of our occupational therapists are also experts in sensory integration.
School counsellors
Our school counsellor is on hand to support young people with emotional or psychological needs. We take a flexible approach, offering timetabled sessions as well as reactive support. So we're there whenever students need us most.
Positive Behaviour Support team
Our approach is positive and proactive, never punitive. Challenging behaviour usually happens for a reason. We take time to understand what's going on and how we can better meet someone's needs. We also help students learn individual coping strategies to handle all kinds of situations.
Play therapists
Play is a powerful therapeutic tool for children and young people. Our play therapists use a variety of approaches, including intensive interaction, floor therapy, creative workshops, lunchtime groups and daily drop-in sessions.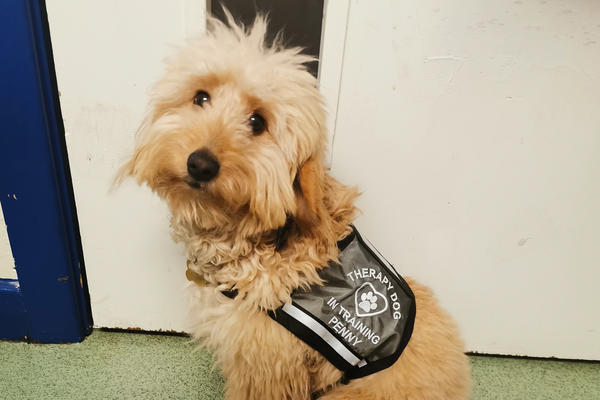 Meet Penny
Penny the cockapoo is a very important member of our therapy team.  Penny is training to be a therapy dog and works with her handler Sonya Mulvaney, a speech and language therapist and board certified behaviour analyst.
Penny works with our students in lots of ways. She helps some students feel less anxious or sad, and helps others do things that might scare them. Penny helps some students attend school, helps people who are afraid of dogs and she loves to be read to. Penny loves being in school and spending time with our students.